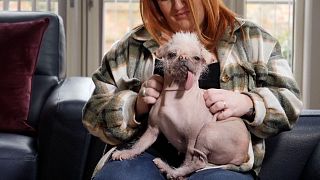 By Euronews Green with AP
Beauty is in the eye of the beholder, but the judges of Britain's Ugliest Dog competition knew at one glance that they'd found their winner in Peggy.
With her permanently dangling tongue, hairlessness and scruffy mohawk she's always attracted attention wherever she goes.
She's a Chinese Crested and Pug cross - and this is the striking result of that genetic mix.
Holly Middleton is Peggy's owner and loves her dog very much, but she's well aware of Peggy's unconventional appearance.
"I'd walk down the street with her and you'd see people look and maybe whisper to their friends or look like there was something wrong with her or wanting to know what was wrong with her, but they wouldn't necessarily approach us in the street," she says.
Winning Britain's Ugliest Dog has changed all that. Prime time slots on the UK's breakfast television shows and newspaper photos have made her a recognisable face in East Yorkshire.
"Now she's sort of been on telly a little bit and people want to come up, they want to have selfies with her, they want to stroke her, people seem to know who she is already," says Holly.
Love at first sight: How Peggy found her forever home
It might have taken fame for the public to accept Peggy, but for Holly it was love at first sight when she saw her on a dog adoption website.
Peggy was already six-months old and all of her brothers and sisters had been claimed, leaving the pup alone.
At home with Holly, she has plenty of TLC and time for her favourite things in life: sleeping, eating and walking.
Without any hair, she needs wrapping up in her jacket during the winter, which she accepts stoically. On the walk, her dangling tongue drags along the grass and gets very dirty and muddy.
"I don't think she's ugly," says Holly. "I just think you're used to dogs looking a certain way, curly and cuddly."
"But we're not daft," she adds. "There's a lot of our friends and people and family that'll make comments so we're not unaware that she's not everybody's cup of tea."
"She's strange, but she's lovely as like personality-wise she's amazing."
The road to stardom
Peggy has always looked like this, so when a competition looking for entrants for Britain's Ugliest Dog appeared in the press, lots of Holly's friends and family suggested Peggy should enter.
Holly sent over a photo and later received the news Peggy had taken the crown.
The Britain's Ugliest Dog competition is run by Parrot Print, a specialist canvas frame printer based in Welwyn. The company receives thousands of photos from customers looking for framed prints to hang on their walls of all their handsome hounds.
Parrot Print thought it was time to honour all the aesthetically-challenged dogs. They received hundreds of entries from across the UK and even internationally, but Peggy was easily top dog.
"I think it's a combination of hairlessness and ugliness and also the jaw, like the tongue hanging out and the very unusual stance," explains company director Matthew Dahan. "She was the complete package in a sense."
A day at doggy spa
Part of the prize included a pooch pampering session at a dog spa and boutique.
Sam Burton is the spa manager at Everything But the Dog, and it was her job to get Peggy looking her best.
She has styled thousands of dogs over the years but acknowledges that Peggy is one of the strangest looking, with no fur to style and only a scrappy, spiky tuft on her head to work with.
Still, Peggy's sweet nature and chilled-out personality won Sam over. "She's really sweet, especially when you see her with her mum," she says. "She just loves her mum so much. She's just got such a fun character. I think she's quite sweet in her own way, really."
Beyond blow-drying Peggy's mohican and combing it into a crest, and a spritz of doggy perfume, there's not much more that Sam can do - besides giving her lots of fuss and attention.
"Really it's more about upkeep of skin for her. So keeping the skin nice and moisturised because obviously she hasn't got a lot of hair on there to protect it."
Holly runs Peggy's popular Instagram profile called chug_life_x, updating it with lots of photos of Peggy's daily life.
Since taking the title of Ugliest Dog, the mutt has been signed up to a dog modelling agency and there has even been interest from the movie industry.
Watch the video above to see Peggy in all her beauty.