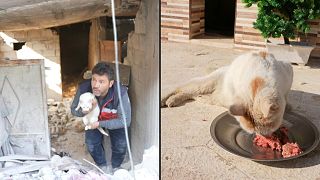 It's been just over three weeks since two deadly earthquakes devastated northern Syria and southern Turkey.
Lost among the rubble, animals suffering from injuries, dehydration and malnutrition have been relying on volunteers like Mohammed Alaa al-Jalil to make it out alive.
Every day, Mohammed travels some 100 kilometres to Jandairis in search of kittens and puppies to rescue. Located in the rebel-held Syrian province of Aleppo, the town was one of the country's worst-affected by the quakes.
"I take [the animals] to the shelter as some of them have been injured or lost their families and are living without shelter or food," says the Syrian volunteer.
Aid was slow to arrive in Syria's rebel-held areas
While relief flooded into Turkey and certain parts of Syria, it was slow to arrive in rebel-held northwestern areas.
Before the disaster, almost all crucial humanitarian aid for the more than four million people living there was delivered through just one crossing at Bab al-Hawa - around 30 km south of Jandairis.
Operations there were temporarily disrupted by the earthquake and it took four days to reopen the border crossing.
During a visit to Jandairis following the reopening, United Nations Deputy Regional Humanitarian Coordinator David Carden said, "I'm shocked by the scale of the destruction, I've never seen anything like it in all my life."
What happens to the animals rescued in Jandairis?
Along with other volunteers, Mohammed has been rescuing cats and dogs from crumbling buildings in Jandairis.
"There are difficulties we face since cats would be scared and so they scratch us out of fear after what they've been through," he says. "We sometimes visit the place over several days and place food and water in an attempt to catch them."
In the last 10 days, he has rescued around 33 cats, eight of which were injured. "We don't find many anymore but we will… dedicate as much time as possible to help these animals."
Once rescued, many of the animals are taken to a shelter that was established before the earthquake in the town of al-Bab, around 100 km from Jandairis.
Here, they receive medical treatment from vets like Ammar Hammami. "My main mission is to treat domestic animals in the shelter," he says. "[For the cats], the injuries vary from eyes to nerves to bones."
How can you help those affected by the earthquakes in Turkey and Syria?
Charities and NGOs have set up emergency appeals to help victims of the earthquakes in Turkey and Syria.
Disasters Emergency Committee, the Red Cross, Save the Children, and Islamic Relief are just a few.
To help animals in need of food, supplies, refuge and medical aid, you can donate to HSI's Animal Rescue Fund and PETA's Global Compassion Fund.
Watch the video above to see more of the rescue effort.