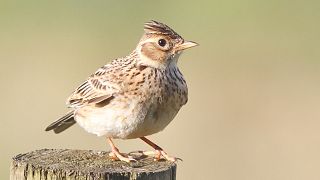 Should endangered wild birds be hunted for sport?
It sounds like an odd question to be asking in 2023, in the midst of a biodiversity crisis.
Yet, at a time when many avian species in the UK are under threat of regional extinction, government data reveals falconers are permitted to hunt rare songbirds.
The data, released this week by government watchdog Natural England, has caused concern among environmentalists.
What is falconry and how is it regulated in the UK?
Falconry involves hunting wild animals in their natural habitat using a trained bird of prey.
There are reportedly around 25,000 falconers in the UK. The sport itself dates back hundreds of years, and it has seen a resurgence in recent times.
While it remains legal throughout Britain, many outside the hobby are unaware that captive falcons are used to hunt native wild birds - including some endangered species.
So there was widespread criticism when it emerged that Natural England has been issuing licences to hunt red-listed songbirds - those of high conservation concern - for sport.
An application form on the government's website asks the falconer to select a number of 'quarry' species they wish to kill. Among the 25 species on the list of quarry birds are 11 amber-listed and seven red-listed examples.
The licences themselves are free of charge and the approval process is at the discretion of Natural England's staff.
Natural England is a non-departmental public body, technically making it independent of the government. It is sponsored by the UK's Department for Environment, Food and Rural Affairs and issues licences on behalf of the government.
With Natural England's stated aim being "to help conserve, enhance and manage the natural environment for the benefit of present and future generations, thereby contributing to sustainable development," news of the falconry licences has angered British bird lovers.
What is the red list of threatened species?
The IUCN Red List is an internationally accepted system for classifying species at high risk of global extinction. Global and national lists are compiled to identify species in decline.
In the UK, the red list of birds is longer than ever before due to human incursion and habitat destruction. It now contains 70 species, nine of which are threatened with global extinction.
Species whose conservation status is of moderate concern are placed on the amber list.
Which endangered birds are permitted to be killed for sport in England?
The UK government's latest licence statistics, which now include the falconry licence data for the first time, reveal that permission is regularly granted to kill several endangered species.
These include skylark, fieldfare and mistle thrush, permitting these otherwise heavily protected birds to be legally hunted.
Other red-list birds permitted to be killed in falconry include dunnocks, house sparrows, lapwings, rooks, song thrushes and starlings.
Can falconry be compared to fox hunting?
Some concerned parties have asked whether hunting wild birds with falcons is really any different to hunting foxes and hares with dogs.
Both fox hunting and hare coursing are now outlawed across England, widely considered by most of the British public to be abhorrent.
However, the sport of falconry continues largely unchallenged and is seemingly sanctioned by a government-sponsored body tasked with protecting and restoring nature.
How has the public reacted to the falconry data?
When this contentious issue recently surfaced in the public domain, via my own blog, people were shocked and outraged.
Most were unaware that the hunting of songbirds was taking place in the English countryside. They were also dismayed that the government was, by default, condoning and supporting the killing of rare species whose populations are in free-fall decline.
"Outrageous. What the hell are @NaturalEngland playing at?" one Twitter user responded.
"Surely can't be true?!" said another.
Especially emotive for some was the inclusion of the skylark, a treasured and much-loved bird. It is now so scarce in England that its once familiar, wistful song is seldom heard today. This is just one of the species whose populations are declining in countries across northern and western Europe.
For many, there has been a deep sense of sadness, even grief, at the realisation that the birds are being destroyed in the name of sport.
One comment beneath my blog post seemed to sum up the mood of those reading the news: "It took a while for me to stop weeping before I could text this message - so enraged and heartbroken am I."
Internationally, eyebrows were raised at the news.
"It is interesting that hunting continues in England, while the UK moralises about hunting in Africa," tweeted the Community Leaders Network of Southern Africa, a group responsible for protecting natural resources across nine African countries.
How has Natural England responded to this criticism?
In response to this criticism, Natural England has issued a statement explaining its reasons for approving these particularly contentious licences.
"We understand concerns expressed about red list species being taken under these licences," it reads.
"Licences are only issued when there is deemed to be no effect on the conservation status of the birds involved.
"If the evidence points to the need for a change in policy, then we will provide appropriate advice to government."
Petition to stop bird hunting puts pressure on Natural England
To coincide with its statement, Natural England released the complete bird control licensing data for 2022, including details of the falconry licences.
The statistics are now published annually following pressure from a publicly supported petition to stop the legalised killing of birds in England, which garnered more than a third of a million signatures.
The legalised hunting of the country's rarest birds seems at odds with current conservation efforts and environmental protection plans. Many of these plans are being heavily promoted - including by the British government themselves.
Falconers have remained mostly silent on the matter, though some have suggested that the number of quarry birds taken is relatively small, and point out that wild birds of prey and pet cats also hunt rare species.
Others across the country remain deeply concerned, asking: isn't it time that red-listed species are removed from the licences - before we lose some of our most precious birds forever?