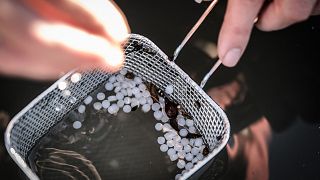 Copyright

LOIC VENANCE / AFP
-
Last year, tiny white pellets of plastic began washing up on beaches in France and Spain.
The round beads measure less than 1.5mm and are known as "mermaid tears". Officially they are called industrial plastic granules (IPG) and are melted down to make everyday plastic objects.
Their small size makes them incredibly difficult to clean up despite the best efforts of volunteers.
Several waves of these plastic pellets have polluted Brittany's beaches over the last two months. In December they were found in Finistère, then Sables d'Olonne and most recently in Pornic. Winter winds and water currents have brought more and more plastic to the shore.
On Saturday (21 January) Ecological Transition Minister Christophe Béchu announced that the French government was taking legal action over this "environmental nightmare".
Where did the plastic pellets come from?
No one knows exactly where the pellets are coming from. Officials have tested samples but the results have not yet been released.
NGOs and environmentalists involved in cleaning up this plastic pollution, such as the Surfrider Foundation, have their theories. They believe the "mermaid tears" may have come from shipping containers that fell into the Atlantic Ocean, spilling the beads into the water.
"It could very well be that one or more loaded containers of plastic pellets have been lost in the North Atlantic and are spilling their cargo on adjacent beaches or released from a container already lost some time ago," says Cristina Barreau, Surfrider's microplastics research officer.
The legal complaint is being launched "against x" - persons unknown - but officials say it is impossible to fully identify the origin of these plastic pellets. The Surfrider Foundation says prosecutors now have to start the "long and fastidious" process of working out who is guilty. 
What is being done to clean up the plastic pellets?
Last weekend, the Surfrider Foundation organised a day of action across beaches in France. They estimate that hundreds of thousands of the white plastic beads have so far washed up.
In December at Tréguennec in Finistère, volunteers collected more than 80,000 pellets from the beach in less than an hour. An estimated 160,000 tonnes of these tiny beads are "lost" every year during the production processes in the European Union alone.
The Surfrider Foundation says the industry needs to take action and responsibility for this plastic pollution. French anti-waste and circular economy laws already mean producers have to take measures to stop the pellets from escaping into nature - but they don't apply outside of the country's territory.
The NGO is calling for strong European regulations to put an end to this pollution. It says the EU needs to reduce plastic production with quantified targets and strict deadlines. Cleaning up spills like this once they have happened is practically unachievable meaning prevention is key. 
In January, the mayor of Pornic, Jean-Michel Brard and mayor of Sables d'Olonne, Yannick Moreau, as well as the president of the Pays de Loire region, Christelle Morançais, filed legal complaints over this plastic pollution.
Béchu praised elected officials, NGOs and volunteers for highlighting bad industrial practices that lead to pollution like this.
"The state is on your side, we have decided to file a complaint," he announced on Twitter.