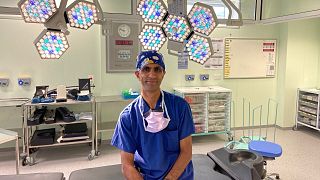 -
Copyright

UHB NHS Foundation Trust
The world's first 'net-zero' operation has been performed in the UK, paving the way for more sustainable practices in healthcare.
Doctors at Solihull Hospital in the West Midlands carried out a five-hour bowel cancer surgery that was completely carbon neutral.
Though patients' health is of course the priority, hospitals have a surprisingly large carbon footprint. The UK's National Health Service (NHS) accounts for around 6 per cent of the country's total CO2 emissions.
Which makes last month's operation all the more significant. Consultant colorectal surgeon Aneel Bhangu says that - as a high emitter - the NHS will have an impact on people's health in the medium and longer term.
"We may not see that directly in an operating theatre but I think we have a responsibility to our patients, and their families and their children and their grandchildren to make sure that we are planning for their future and a healthy future for them."
So how do you make a surgical operation carbon-free?
Emissions from the keyhole procedure were cut by 80 per cent, with the remainder countered by the two surgeons cycling and running to work - thereby offsetting the emissions that would have been released from them driving as usual.
They also planted three trees in the hospital grounds to offset their carbon footprint.
The University of Birmingham said it worked with surgeons to complete the NHS' "first documented net zero operation", believed to be a world-first by the team too.
It involved a host of changes, from wearing reusable scrubs to altering the way anaesthesia was administered.
Pain relief is an unexpectedly impactful part of an operation. Instead of using conventional gas, a liquid was injected into the patient's veins to send them to sleep.
Anaesthetist Dr Catriona Frankling explains, "One way of keeping a patient asleep is to use anaesthetic gases - now these are greenhouse gases and when we use them, the patient breathes them in, they breathe them out, and it gets vented out into the atmosphere and there it can cause global warming."
It's not what we're used to seeing - whether in real life or on TV - but the intravenous method isn't unusual in the NHS, and it's a change that many surgical teams could safely make.
Energy use was another big area in which the team sought to eliminate emissions. They reviewed everything electrical from air conditioning to lights - concluding they did not need to be kept on overnight, as they currently are.
Switching to energy efficient options like LED lighting also helped.
Can medicine curb its environmental impact?
It will come as no surprise to those working or receiving care from the NHS that recycling was another area where the medics found room for improvement.
Mountains of plastic waste are generated in healthcare settings every day - a situation that has only got worse during the COVID pandemic, with all the extra hygiene measures it's entailed.
An NHS Providers review in 2019 found that the system already disposed of 133,000 tonnes of plastic a year, of which 95 per cent goes to waste.
Turning off the lights and opting for plastic-free products can feel like a tiny tweak in our own lives, but for a massive organisation like the NHS these changes add up in a big way.
These are easy fixes compared to some of the more vital, energy-intensive activities that nurses and doctors carry out. Just one year of kidney dialysis, for example, is equivalent to seven return flights between London and New York.
Surgery accounts for a quarter of the emissions from a typical NHS trust, so the changes that Dr Bhangu's team trialled have huge potential for making medicine greener.