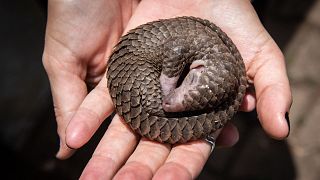 -
Copyright

Isaac Kasamani AFP
Conservationists in Liberia are determined to stop the generations-old tradition of hunting pangolins, which are vulnerable to extinction due to illegal poaching.
Clutching a single-barrelled rifle in lush northern Liberia, Emmanuel says his 10 children were able to get an education thanks to his gun.
He regularly ignores the ban on hunting bushmeat and earns most of his cash catching pangolins and monkeys in the surrounding jungle.
In the dry season, Emmanuel waits for dark and then hikes into the forest with his rifle and machete.
Pangolins, scale-covered insect-eating mammals that are typically the size of a full-grown cat, are mostly active at night, snuffling through deadwood for ants and termites.
The species is under threat worldwide but remains a delicacy in the impoverished West African country.
Their scales - made of keratin, like human nails - are also prized by consumers in Asia for their supposed medicinal properties.
"We kill it, we eat it," says Emmanuel, in a village in Gbarpolu County, five-hours drive north of the capital Monrovia along pitted dirt roads.
"Then the scales, we sell it," says the hunter. "There's no other option".
Pangolins are disappearing worldwide
A 2020 study by the US Agency for International Development estimated that between 650,000 and 8.5 million pangolins were removed from the wild between 2009 and 2020.
The population is declining worldwide due to deforestation, bushmeat consumption, and the scales trade.
According to the United Nations Office on Drugs and Crime (UNODC), seizures of pangolin scales have increased tenfold since 2014, suggesting a booming global trade.
Efforts to stamp out illegal poaching in Liberia
Pangolins are believed to be the most trafficked animal in the world and Liberia is one of the main origin countries. Over 40 per cent of the country is covered in rainforest and governance is weak. The country is also still recovering from brutal civil wars from 1989 to 2003, and from the 2014-16 Ebola crisis.
With conservationists sounding the alarm, Liberia's government banned the unlicensed hunting of protected species in 2016, imposing up to six months in prison or a maximum €4,500 ($5,000) fine.
But the government is up against the dual forces of tradition and poverty as it tries to reduce poaching of these vulnerable animals. 
**Watch the video to find out more about pangolin poaching. **