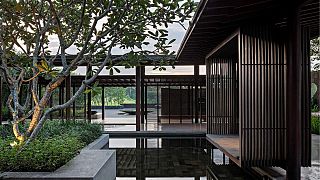 Hotels around the world are taking steps to improve their green credentials and go carbon-neutral in an effort to cause the least possible damage to the environment. After all, in an era of climate change, a hotel stay is not only about the usual creature comforts but also about environmental sustainability. This means that for the eco-conscious traveller, a low carbon footprint is just as important as free Wi-Fi or a well-stocked minibar. If you're looking to minimise your eco-footprint during your next hotel stay, here are 10 important questions to consider.
1. What kind of energy-saving measures are in place?
One way hotels are turning towards green energy is by switching to the use of energy-efficient appliances and automatic room temperature control systems. Guest rooms wired to occupancy sensors also significantly reduce energy consumption by automatically entering an energy-saving mode when guests leave their rooms.
E.c.ho. Milan (Ecological Contemporary Hotel) is an example of a sustainable hotel equipped with several notable green technologies. Occupancy sensors in the guest rooms regulate the air conditioning system, the water heaters are energy-efficient, and a computerised LED lighting system is in place in all areas of the property. Hotel management estimates that with all the eco-friendly measures in place combined, this represents an annual reduction of carbon dioxide to the tune of 130 tonnes.
2. Do they follow water-saving practices?
Water conservation is increasingly becoming standard in hotels around the world, especially in regions where rainfall is scarce or insufficient. It's worth asking a few questions about water-saving practices before making your next hotel booking. For example, are bathrooms fitted with low-consumption toilets and low-flow showers and taps to reduce consumption as much as possible?
Other ways to conserve water resources is by recycling the grey water from sinks, showers, bathtubs and washing machines. This can be used to irrigate lawns and gardens, as can the collection of rainwater in storage tanks, ponds or reservoirs.
Another thing to check is whether there's a towel and sheets reuse policy. Most chains and major hotels ask guests staying multiple nights to consider not having their sheets and linens changed every day. Some chains also ask guests to consider opting out of housekeeping often in exchange for an incentive.
At Soori Bali on the southern coast of the island of Bali, Indonesia, water conservation is at the centre of its sustainability policy. Recycled grey water is used to irrigate the resort's landscaped gardens, reducing consumption by 50 percent, and wastage is minimised thanks to a water-efficient bathroom, laundry and kitchen appliances.
3. Does the hotel use alternative energy systems?
Find out if the hotel you're looking at for your next holiday uses any alternative energy systems like solar or maybe even wind energy. Solar energy is the most common renewable energy source in the hotel industry, especially for water heating.
At Rocksresort in Laax, Switzerland, the entire ski resort is powered by hydroelectricity while the buildings are heated using renewable biomass energy, or fuel made from organic materials. But that's not all: the resort's chairlifts are powered by the energy captured by solar panels and soon three wind turbines will provide another sustainable energy source to the resort. Thanks to all these green initiatives, rocksresort won the title of World's Best Green Ski Hotel in 2018 at the World Ski Awards.
4. Are there waste disposal and recycling systems in place?
Another easy way hotels make a positive mark on the environment is by having a recycling programme in place. Find out if your hotel has an active policy to recycle, reuse and compost. Are there recycling bins available in-room and in public areas? Do they have a composting programme? Is there a policy to limit the use of plastics and other disposable materials? Some hotels are reducing plastic use by forgoing bottled water completely and introducing filtered water dispensers and refillable bottles made of sustainable materials.
An interesting example of a hotel that's included recycled materials in its interior design is Ion Adventure Hotel in Nesjavellir, Iceland, a hotel that's been turning heads since it opened because of its eye-catching design and eco-friendly ethos. The surrounding hot springs feed the natural swimming pool, and the lava found in the natural environment, as well as reclaimed wood and Icelandic wool, are some of the materials used to make the hotel's furniture. Other recycled objects have become tables and chairs while the hand sinks are made of recycled tires.
5. Does the restaurant kitchen use locally sourced ingredients?
Feasting on locally-grown produce not only provides a local gastronomic experience to visitors, it also reduces the number of food miles between farm and kitchen which cuts back on air pollution and especially greenhouse gases. Consider asking where the hotel sources the ingredients for its restaurant if you want to gauge its ecological footprint.
Other important questions to ponder: Do they use organic produce? Are there vegetarian or vegan options on the restaurant menu? Plant-based meals significantly reduce the impact on the environment by saving water, land resources and fossil fuels used in food production.
La Vimea Biotique Hotel situated in the Italian Alps has a 100% vegan kitchen and is eco- and veg-friendly as a result. Dishes served up here are prepared with organic produce sourced from local organic farmers as well as the management's own farm in Tuscany where they also produce organic olive oil and saffron.
6. What kind of vegetation grows in the garden?
A trend towards rooftop and vertical gardens is another green initiative that improves air quality thanks to the natural filters of plants which remove carbon dioxide and pollution from the air and provide much-needed oxygen. At the same time, rooftop gardens can provide insulation to buildings by reducing heat and energy costs.
Ideally, hotel gardens should be made up of plants that are native to the area and can easily adapt to environmental conditions. They also often require less water and provide a green habitat for birds.
Tri Lanka overlooking Koggala, Sri Lanka's largest lake, describes itself as a sustainable hotel. In its garden grow trees native to the island like mango, ambarella and coconut, as well as bushes of bamboo, cinnamon trees, wild herbs and plants of tea and lemongrass. Covering the resort's rooftops are creepers and flowering plants of watergrass, sea purslane and hedges of dwarf bamboo.
7. Does management support any local development initiatives?
Does your hotel support local initiatives aiming to improve the local environment and make a positive difference to the welfare of local residents? It's worth finding out.
Zuri Zanzibar in Kendwa on Zanzibar island runs a number of corporate social responsibility projects that reveal its commitment to the environment. Its Keep Kendwa Clean project includes a waste collection programme and the clean up of a nearby road and beach. Also, schoolchildren are taught about waste management and how to compost while learning about biology hands-on in the school's garden.
Other meaningful projects include education on marine conservation and forest ecology through the Chumbe Environmental Education Programme, while The Seaweed Center creates income for women seaweed farmers through the production of beauty projects like creams and soap made with seaweed.
8. Are there natural toiletries in the bathrooms?
The little bottles of shampoo and bath gel found in hotel bathrooms around the world are slowly disappearing in an effort to reduce harmful plastics. Taking their place are bulky pump-style liquid dispensers but hotels are making up for this by upping their quality and filling them with products free of chemicals and made of natural eco-friendly ingredients.
Hotels in North America belonging to the Intercontinental Hotel Group and Marriott chains have already made the change and ramped up their green credentials with pump dispensers replacing the tiny bottles of body wash, shampoo, conditioner and body cream. In the bathrooms of hotels belonging to Marriott's worldwide Renaissance brand, guests will find luxurious Aveda products made of high-quality natural and organic ingredients.
9. Are there efforts to limit the use of chemicals?
A few hotels have been taking steps to limit exposure to toxic chemicals by making the switch to facilities like saltwater pools which need less harmful chlorine. Others have gone a step further by utilising an ozone laundry system which limits unhealthy chemicals by using oxygen and electricity instead. This ozone solution dissolved in water replaces chemical laundry products.
Earlier this year Herman K opened as Denmark's first chemical-free hotel in the capital city Copenhagen. This luxury boutique hotel eschews the toxic chemicals found in cleaning products which harm the environment and pollute indoor spaces. As an alternative, management has introduced a cleaning process called ECA water, a harmless substance created through the electrolysis of salt and water. Odourless, this has been used to coat the surfaces of guest rooms and suites creating an invisible shield against bacteria.
10. Are there green transportation options?
Green transportation is another trend city hotels are offering to their guests. Easy ways to encourage a car-less and carbon-neutral holiday include making bicycles available for guest use or a shuttle service to the airport or city centre. Walking maps encourage exploring the city on foot, and charging stations for electric vehicles are increasingly popping up at hotels around the world.
Four hotels situated in the city centre of the Slovenian capital of Ljubljana and belonging to the Union Hotels group have introduced a small fleet of electric scooters. This is in addition to other green transportation options like bicycle hire and electric vehicle charging stations. What better way to get around a city that was named the European Green Capital in 2016?
Writer: Isabel Putinja