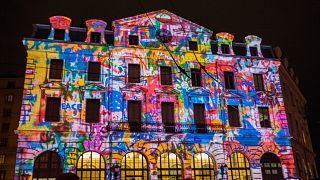 Lyon's Festival of Light or Fetes des Lumieres attracts between three and four million visitors each year. The event, now boasts dozens of installations and a host of the city's most iconic buildings shimmer across the night sky.
Philippe Morvan, who has a Timelapse luminex installation, said: "In front of us you have a piece called Luminex which consists of a cylinder on which we have placed 364 bulbs which are lit by LEDs. There are about 3000 metres of cables and about 1000 connections."
"From its humble beginnings in the 1600s as a provincial religious tradition, the Fete des Lumieres has transformed into a sprawling urban event at the cutting edge of design, innovation and artistic endeavour," says Euronews' James O'Hagen.
"We go in search of the artists and the organisers to find out what putting together an event of this magnitude entails."
In the Gallo-roman amphitheatre overlooking Lyon, artist Damien Fontaine has created a truly spectacular installation steeped in fantasy, inspired by a Hindu legend about a magic horse. For the first time ever, live horses have been dressed in a new type of fibre optic material.
Fontaine says: "We are in a place that is loaded with history, this show is based on a Hindu legend through this horse named Balaha who, because he is afraid of a dragon who comes from another constellation, flees the heavens and comes to tread the earth with his gallop of light."
"It was a former silk weaver who developed this concept about ten years ago and managed to create a texture, like clothing but within which he weaved fibre-optics. And it is really a unique process. What's novel about it is dressing a horse with it. It is quite simply a world first."
Dutch company Mr Beam's installation 'Insert Coin' transforms the public space with an immersive story populated by classic cult characters.
"Actually it's a homage to computer games, we all grew up playing computer games, playing Pacman and growing up with all those games, says Mehdi Assem, one of the installation's co-creators.
"So this was actually a really good opportunity for us to put in the energy, to put in all the creative references we have, to put it in the animation and basically tell a story. And hope the audience will enjoy it."
Co-creator Bucko Arends says: "I think this is a story about collaboration. The main characters, they step into a world where they're unknown but they recognise stuff from what they've played before and we hope that the audience will really enjoy the story and feel connected to the main characters."
Paraglider and artist Christophe Martine is fascinated by flying objects brought to life with light. Les Pikooks depicts two large snow owls guarding precious eggs which float in the fountain beneath.
"What we wanted was to create a fantasy world with two structures which resemble owls but we might also see them as fish, says Martine.
"We tried to leave space for the imagination so that people can see what they wish. With a nest, and in fact these birds are going to brood on the nest and we will see a game with the lights that gives the appearance of a hatching, this hatching of light will bring the structures to life.
"The idea is to offer magic and poetry," Martine adds.