Everything you need to know about Lyon's Fete des Lumieres
Comments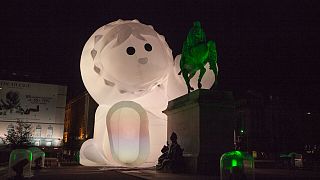 -
Hundreds of thousands are expected to flock to the French city of Lyon this weekend for the "Fete des Lumieres" — the world's biggest light show.
Euronews recaps what you need to know:
What is the Fete des Lumieres?
The four-day event sees the eastern French city of Lyon filled with dozens of dazzling displays of light.
Artists from around the world take part to transform some of the city's landmarks into mesmerising art works.
For instance, visitors this year will be able to take in 41 different displays including abstract paintings projected onto the facade of the 15th century Saint Jean Cathedral.
The gardens of the Fine Arts Museum will also be illuminated through algorithms linked to different pieces of music which will highlight some of the architectural wonders of the building, while the city hall courtyard will proudly display the French tricolore via a laser beam show set to a classical orchestra score.
This year the event runs from December 6 to December 9.
How it came about?
The tradition started in 1852 when the city's residents spontaneously lit candles in a gesture of solidarity on December 8 after the official ceremony to inaugurate a Virgin Mary statue on Fourviere Hill had to be cancelled. The event had already been postoned by several months due to floods.
The tradition endured but evolved in the 1960s when shops started to compete to put on the best light show and then mutated again in the late 1980s when city hall put up a plan to highlight landmarks, bringing about the "Fete des Lumieres" (Festival of Lights).
Last year the four day event attracted over 1.8 million tourists.