A Loch Lomond whiskey of which there are only 60 bottles in the world.
The motorboat slides quietly between the islands scattered over Loch Lomond. The black surface of the water ripples under the hull, and waves fade away in silence. This highly touristic ride in the Highlands connects Luss to Cameron House, one of the most luxurious hotels in Scotland. It's a path full of quirky anecdotes.
In the 18th century, people with mental disorders and single mothers were left forgotten randomly on Inchmurrin. A population of Australian wallabies imported by Lady Colquhoun in the 1940 call Inchconnachan home despite the rough climate.
As for Inchcruin and Inchmoan, they are linked by a path only seen at low tide where all the secret rendez-vous – both romantic and diplomatic – used to take place. It's a lively place, which is inhabited by eccentric characters and inspired a whisky producer.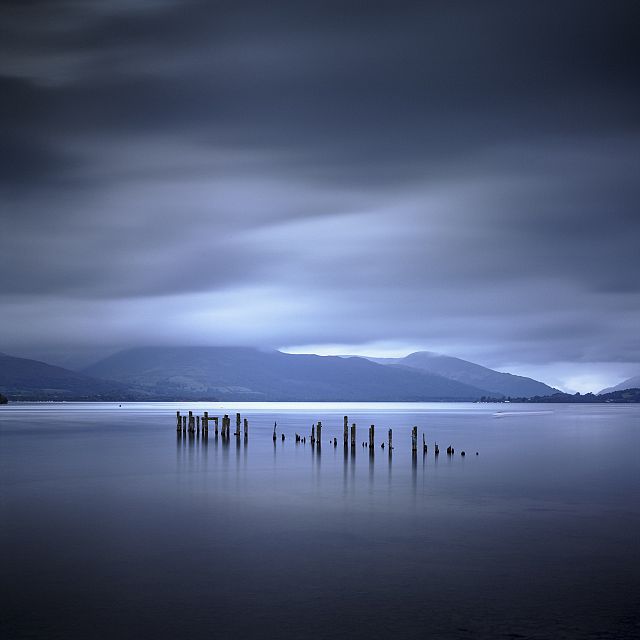 "Loch Lomond is synonymous with celebration, joy and conviviality around alcohol, always in moderation of course," explains Colin Matthews, CEO of the Loch Lomond group, which owns several distilleries in the region. The one in Alexandria draws water directly from the loch. It is from there that the flagship products of the brand – whiskys stamped Inchmoan and Inchmurrin – come from.
Founded in 1964 by the former owners of the Littlemill Distillery – which dates back to 1772 and according to some is the oldest distillery in the world – the Loch Lomond brand has inherited several innovations making it unique in the whisky industry.
Differentiation through distillation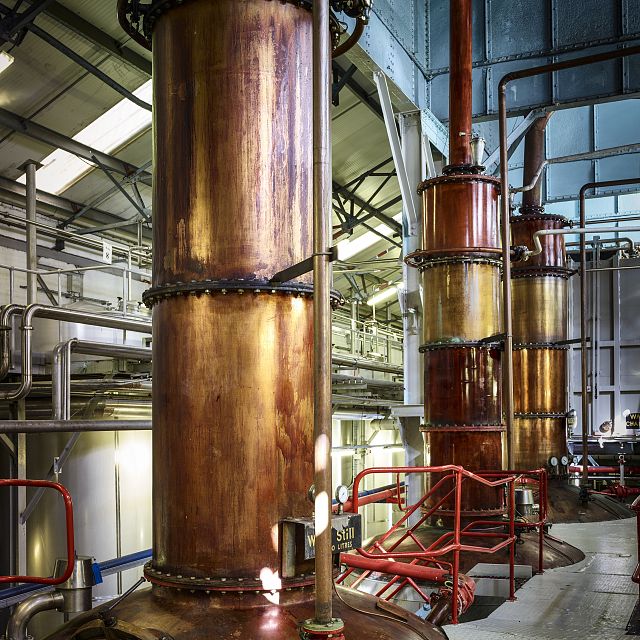 In the 1980s, it became fully independent with a set of three different stills, its own cooperage for the manufacture of wooden barrels and the ability to produce both single malt and single grain autonomously. It's also one of the only ones in Scotland.
"By rotating types of cereals, yeasts and distillation processes, we are able to produce more than eleven types of malt alcohol that we can then use in our blends. One hundred percent of alcohol in the Loch Lomond blend is produced right here", says John Peterson, in charge of production for 25 years, as he introduces the different stages of whisky production.
"If there was a category called 'single blend', in which all spirits come from the same distillery, then that's what Loch Lomond would be," he says.
Loch Lomond is distinctive for its 92 hours fermentation process instead of the usual 60. "The first step is to produce a beer from malted barley starch sugar, yeast and water. After 60 hours this produces a beer but we continue the fermentation until 92 hours to develop more fruity and interesting notes," he says.
The next stage of distillation also includes a major innovation: a straight neck pot still that looks like a tall column. Inside are several trays to distill alcohol vapours more efficiently and produce 90 percent abv., while traditional stills only rise to around 70 percent. "It allows you to capture different fruity notes and eliminate impurities," he concludes.
Loch Lomond 50 Year Old
Master blender Michael Henry, also an expert in beer and distillation, joined Loch Lomond in 2007. "When I arrived, I discovered this rare single malt that had been there for 40 years," he explains at a dinner party and tasting prepared by Chef Martin Wishart.
Henry evokes the 50-year-old Loch Lomond whisky of which there are only 60 bottles in the world and that he is unveiling exclusively. "Expectations are high when you work with liquids as special and rare as this one," he says.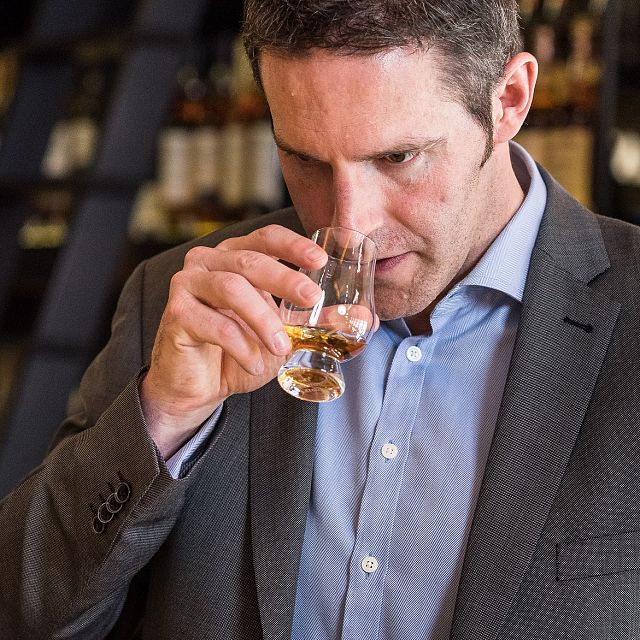 Michael Henry Loch Lomond Master Blender
"This 50-year-old whiskey was distilled on 19th November 1967 in the swan neck pot still and comes from one single barrel. It was first matured in American oak for 31 years before being casked in a European oak barrel for 19 years," he explains. "This limited edition was bottled at 46.2 percent abv.".
The challenge for a whisky producer is to take into account the angels' share meaning the alcohol that evaporates as time goes by. The longer the time, the more the angels' share is important. However, for an alcohol to be considered 'whisky', its percentage of alcohol must be equal to or greater than 40 percent. This is why, in order to limit losses, this experiment is generally done on a very small scale.
The tempest chest
Rare and precious, this whisky has been estimated at £12,000 (13,000 euros) a bottle. To highlight the liquid, Loch Lomond has partnered with Method Studio to create a custom packaging that evokes the Loch and its history.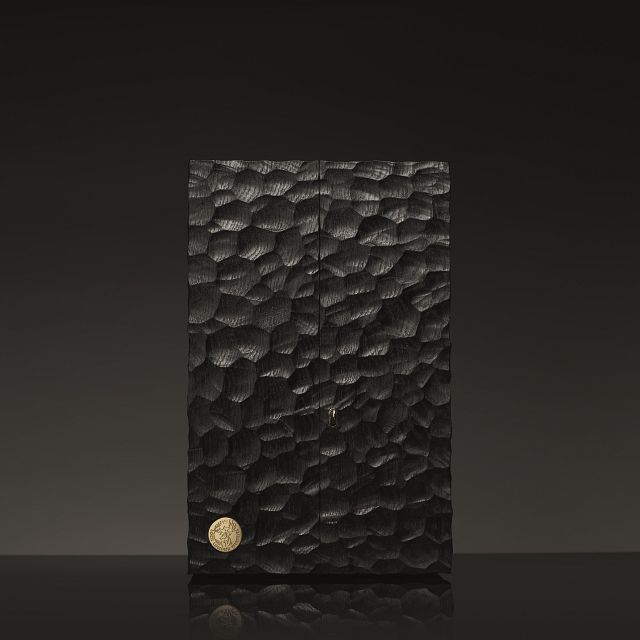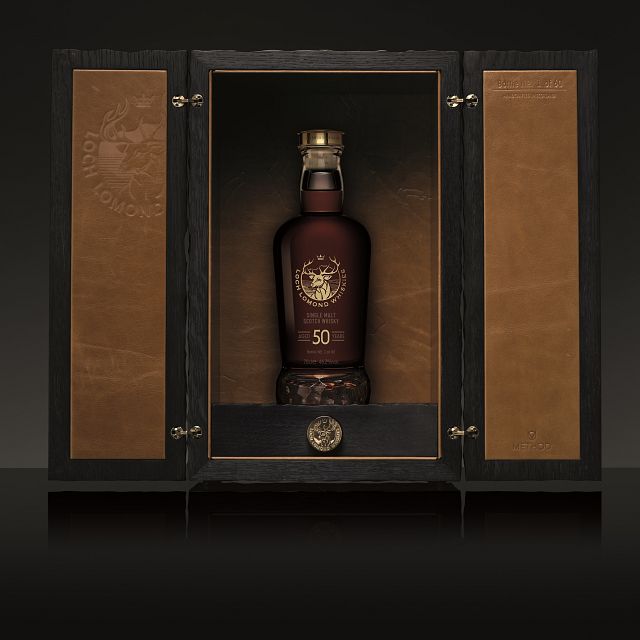 The cabinet makers Callum Robinson and Marisa Giannasi have designed a hand-carved wooden case painted in black ebony which symbolises "the surface of the Loch at dusk when swept by the wind".
A secret compartment conceals a vial of Loch Lomond 50 as the bottle is primarily an object for collectors and tastings… limited to a handful of moments in a lifetime.