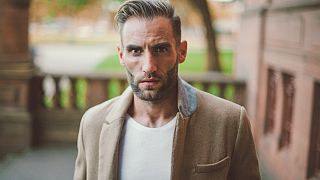 John Robertson is the Brit behind lifestyle blog The Everyday Man . The blog focuses on casual luxury that every man can achieve. His Instagram boasts a selection of cars, exciting holidays and classic clothes, while his blog has longer pieces about how to follow his lifestyle. Living it chats with him to discover his daily routine and what he loves about living in London.
Who would you invite to your ideal dinner?
It's always one of those questions I struggle with because in reality I like familiarity, I like to have a relaxed dinner with my friends. If I was to pick some better-known people to eat with, I'd choose David Beckham (my fashion inspiration) and maybe Nile Rogers, I think he would have some amazing stories to share.
Where is London's best interior design to take a picture of?
You are spoiled for choice in London, it seems that every day somewhere new throws open its doors and has lots to offer. I really like the interior at the Mondrian hotel though, it was designed by Tom Dixon who is one of my favourites. It's very dark and reminds me of cosy nights at home during winter.
What's your morning routine?
As I work from home a lot of the time but morning routine is normally quite relaxed. I generally wake up and spend a while doing emails and admin in bed before hitting the shower and grabbing a healthy breakfast. I'm then off into town for events or meetings or else setting myself up in front of the computer for a day of writing.
What is your favourite hotel and why?
The Town Hall Hotel in Bethnal Green always sticks in my mind. I've stayed there a few times and love the atmosphere of the place, it's large but never seems to feel busy or hectic, I like that in a hotel. The apartments are great and offer all the stuff you need and a lot more, they are stylish yet homely and have insanely comfortable beds too!
What is the ultimate luxury according to you?
Switching off! Like so many of us nowadays being connected to the internet 24/7 takes its toll. My ultimately luxury is switching off, though I rarely get a chance to do it unfortunately, I'm addicted to updating my social even when I'm not working. Having some downtime at home eating nice food and watching films is my idea of the perfect luxury weekend. Maybe that's a sign of me getting old or just a sign that I travel too much.
John Robertson is a Living It luxury insider from the UK. If you liked this article, check out our other insider interviews here . And stick with us on social media using our #livingitluxe to be featured.