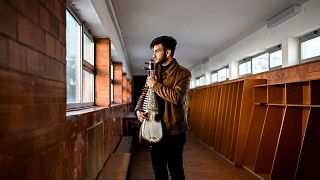 -
Copyright

PATRICIA DE MELO MOREIRA / AFP
Young Afghan musicians keep fighting against what they call a "cultural genocide" in their country. 
58 students of the Afghanistan National Institute of Music (Anim) have begun a new life in Braga, Portugal, a year and a half after having fled their home country. Their safety was in question once Afghanistan's rich musical culture came under threat as the Taliban banned music. 
The students keep protesting in exile.
"We are here to save our music," says 19-year-old Rami holding his rubab, a traditional stringed instrument made of wood and inlaid with mother-of-pearl.
"The Taliban are saying that music is haram (ed: forbidden by Islamic law). The music is haram, they didn't allow the music, they didn't allow the women to work, they didn't allow the young girls to study," adds Rami.
Music including pop was allowed in the past two decades in Afghanistan until the Taliban's return to power in August 2021.
"When Taliban reached the gates of Kabul, it was clear that we should get out," recalls Anim director Ahmad Sarmast, who did everything possible to evacuate the students and staff of the music institute.
"When in a country the music is banned and the entire nation is silenced, it's nothing short of a cultural and musical genocide," adds Sarmast, who has made it his mission to safeguard his country's musical heritage and to recreate in Portugal the music school he founded in Afghanistan in 2010.
'Our music is not dead'
Ramiz, taking a break from his rubab practice, is optimistic and hopes one day to return to Afghanistan "and show our music is not dead".
But his mood darkens when he thinks about his family back home. He hopes they will soon be able to join him in Portugal as "life is too dangerous for them".
He speaks to his mother every day. 
"One night if she didn't listen to my voice, she won't sleep," says the young man, whose father and two brothers are also musicians.
'Each performance is a protest'
The exiled students have been welcomed at the Braga Music Conservatory, where they continue to play music as an act of resistance.
"Each performance of our school is a protest against what is happening in Afghanistan," Sarmast says.
One of those acts of musical protest came earlier this month in a concert with celebrated Japanese-born violinist Midori Goto.
Watch the video above to see how these students keep fighting for their music and cultural heritage.