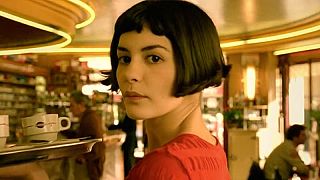 Nearly 22 years ago, the charming Amélie Poulain entered our lives.
Jean-Pierre Jeunet's celebrated film Le Fabuleux Destin d'Amélie Poulain (Amélie) received widespread critical acclaim and became one of the biggest international successes for a French film.
It can't be denied that the years have not been too kind to this Parisian whimsy. It may have been the highest grossing film in France in 2001, but some have reappraised Amélie in the last two decades as a style-over-substance affair, while others feel that it peddles a twee and parodical perception of what a "French film" looks like and that its lasting legacy is the Disneyfication of Montmartre.
However, even cynics and those immune to the dreamy fantasia couldn't have seen this plot twist coming.
Jean-Pierre Jeunet has revealed the true story of Amélie in a short 6-minute film he has released titled "La véritable histoire d'Amélie Poulain" ("Amélie: The Real Story"), in which he drops one sizeable bombshell: Amélie is not the kind-hearted waitress we thought we once knew.
She is in fact a spy recruited by the KGB.
Don't believe it? See for yourself:
Yep, that's canon now.
Composed of iconic scenes from the film which have been rearranged to unveil Amélie's espionage techniques and her devious spy-master plans (and how to concoct a cyanide crème brulée), this glorified Easter Egg from the director shows the importance of editing in the filmmaking process and how images can be reappropriated to fashion new scenarios. It's a cheeky wink to the fans that once again proves that films are created in the editing suite.
When he's not retooling his whimsical reveries as devious spy stories, Jeunet has been rather discreet on the big screen.
He followed up Amélie with A Very Long Engagement in 2004 and his 2009 "satire on the world's arms trade" Micmacs. Both did well but paled compared to Amélie 's national and international following.
His 2013 adaptation of Reif Larsen's 'The Selected Works of T.S. Spivet' was well received but didn't draw in the audiences, and the filmmaker found it difficult to find investment for his future projects.
After nearly a decade away, he released Bigbug last year, a thoroughly average straight-to-Netflix sci-fi comedy that failed to recreate the impact or critical consensus of his acclaimed first films Delicatessen, The City of Lost Children and Amélie.
At least this new short film reminds us how special Amélie continues to be (cynics be damned) and that if you decide to celebrate the film's anniversary next month, you definitely won't be able to look at Audrey Tautou's big brown eyes the same way.