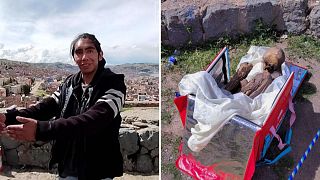 Brace yourselves... This story is beyond bizarre. 
Police in Peru have seized a mummified human believed to be between 600 and 800 years old from a former 26-year-old food delivery man. 
The mummy was found nestled in the isothermal bag that the man, named Julio Cesar Bermejo, had once used to deliver food to people's homes. Bermejo has been arrested and will remain in detention while investigators delve further into the strange case.
Bermejo claims to have cared for the mummy, who he calls "Juanita", in his home for the past 30 years, after his father brought it home. 
In an interview with reporters, he describes how the mummy sleeps beside him in his bedroom, adding that he takes great care of it. 
"I take care of her, I maintain her, she is like my spiritual girlfriend" says Bermejo. 
The mummified remains are thought to be a "pre-Hispanic relic" and "an adult male individual, presumably from the eastern area of Puno", a region in the Peruvian Andes some 1,300 kilometers (more than 800 miles) southeast of Lima, according to the Ministry of Culture. 
However, a specialist at the ministry has stated that the mummy is of a man who was at least 45 years old and should be referred to as "Juan" rather than "Juanita". The body was found wrapped in bandages in the fetal position.
Peruvian police stumbled upon the remains while patrolling a park in the city of Puno, where Bermejo was hanging out with friends. Bermejo denied that he was trying to sell the mummy and explained that he was carrying it around because his friends wanted to see it. 
The culture ministry has now taken possession of the mummified remains, with the aim of protecting and preserving this heritage.
Check out the video above to learn more about this bizarre incident.