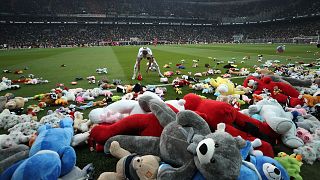 The fans of Beşiktaş Football Club are known to be among the most fanatical followers in the world - sometimes hitting the headlines for all the wrong reasons.
However, this time Beşiktaş supporters have stirred emotions beyond the game, not with their loud chants or cheers, but with a heartfelt campaign directed at helping victims of Türkiye's deadly and devastating earthquake.
Football resumed across the country this past weekend and fans of Türkiye's oldest football club marked the occasion by throwing thousands of toys onto the pitch for children who lost their homes in the quake.
The "This toy is my friend" campaign, was initiated by the club's administration in Kahramanmaraş, and was massively supported by black and white fans.
In the Spor Toto Super League match between Beşiktaş and Fraport TAV Antalyaspor at Dolmabahçe Vodafone Park, toys thrown from the stands covered the pitch. They will all be to be given to children in the earthquake area.
The show of solidarity, timed to coincide with the first earthquake on February 6 at 4.17am, saw the game stopped at the 4th minute and 17th seconds. 
During the display, the song "Bir başkadır benim memleketim" (My country is the one and precious) was played from the stadium loudspeaker, and the license plate codes of 11 provinces were displayed on the scoreboard.
While the players on the bench of both teams were helping to collect the toys thrown on the field with the officials, some were clearly visibly moved.  Alexandru Maxim, who came to Beşiktaş on loan from Gaziantep FK, one of the earthquake zone teams, had tears in his eyes.
World-renowned Turkish pianist Fazıl Say also shared the images on his social media account. "Let's plant the seeds of love. We will heal these great wounds together. Bravo Beşiktaş. A unique view. The whole world should see it." he said in his message.
Cenk Tosun, who previously played for Everton in the English Premier League, also had emotional moments and was seen crying on the field. Tosun's family lives in Gaziantep, which is among the cities affected by the earthquake.
At the same time, a banner reading "From west to east, this community is behind you! Our condolences" was unfurled from the black and white stands.
The toys will now be delivered to the earthquake area by Beşiktaş and the club has also announced that it will sell the jerseys worn in the match via an online auction and with proceeds raised going to earthquake victims.