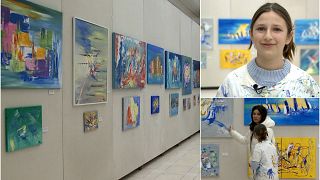 "I am a child who loves to paint, to play, and who loves sports a lot." says 12-year-old Romanian painter who's risen to fame in Europe for her vibrant artworks.
Giulia Pintea was born in Italy but now lives in France. Her parents, both Romanian-born, went to Canada in 2000 before returning to Europe.
Giulia started painting when she was just six years old. Her works have already been exhibited in famous art galleries in France, Germany, Spain, and Italy.
"My intention is to provide joy through my works, for anyone to admire. The ideas come instantly. I put the colours on the canvas and I start playing with my creation." says Pintea.
"If one has a dream, and she or he really wants to make it happen, it will for sure happen," she adds. 
"I support her a lot because this is a gift from God and it is important for everyone to maintain these gifts," says Alexandra Pintea, Giulia's mother.
Giulia's French painting teacher Jose Curti remarks he believes she's surpassed his own ability. "The student has become the master," he admits.
"Julia is now a great artist. She started to paint when she was six, she is now twelve. She's made a lot of progress and everything she does is wonderful in every way. The explosive colours she uses impress me. I would say that she surpassed her teacher and this is an extraordinary thing. I was never so pleasantly surprised by a child`s paintings, of her use of colour." Curti says.
For the first time, she presented her paintings in Romania at an exhibition titled "Symphony in Colours", held inside the Parliament Palace in Bucharest.