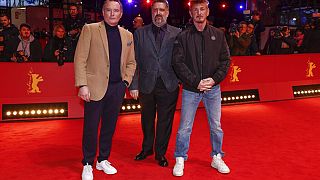 -
Copyright

Joel C Ryan/Joel C Ryan/Invision/AP
A documentary about the war in Ukraine by American actor and activist Sean Penn received a standing ovation at the 73rd Berlin International Film Festival, known as the Berlinale.
'Superpower' was originally conceived as a profile of Ukrainian President Volodymyr Zelenskyy, a former actor himself, but due to the Russian invasion, it turned into a portrait of events in the war-torn country.
Penn and his co-director Aaron Kaufman were filming in Kyiv when Russia invaded in February last year. That night, Penn conducted his first of several interviews with Zelenskyy for the film.
During a later visit to the country, Penn loaned one of his two Oscars to Zelenskyy, telling him: "When you win, bring it back to Malibu."
Hollywood star Penn has been involved in numerous international humanitarian and anti-war efforts over the years, and in 2022 Zelenskyy presented him with the Ukrainian Order of Merit. 
A plaque in the actor's name was also installed in a walkway in Kyiv honouring world leaders who have shown solidarity with Ukraine.
The Berlinale this year pays special tribute to Ukraine and the protests in Iran. 
The festival runs until February 26.