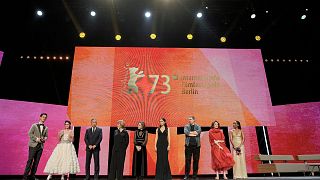 -
Copyright

AP Photo/Markus Schreiber
For the duration of this year's Berlin Film Festival, Euronews Culture will be bringing you up to speed with news, reviews and gossip from Europe's largest film festival.
The 73rd Berlin International Film Festival is in full swing and kicked off with politics, one cinematic low and a memorable high.
Let's start with the politics...
The festival has never been shy about its political leanings and how engaged it is with current events. This 73rd festival was all about that from the get-go. It's no surprise, as Russia's war on Ukraine continues to rage on and Iranian citizens continue to be imprisoned and executed by a regime determined to destroy human rights and freedom of speech.
The Berlinale has already announced a series of special events planned, including panel discussions and red-carpet protests in solidarity with the people of Ukraine and Iran. Artistic director Carlo Chatrian said the Berlinale would be a celebration of the "catalysing and revolutionary notion of cinema which unites even when it divides."
The topic was discussed during the opening jury press conference.
Very early on, jury president Kristen Stewart – at 32 the youngest president in the festival's history - made some interesting remarks on the fact that we are currently living "in the most reactive, emotionally whiplashed time" and how the job of an artist is "to take a disgusting and ugly thing and transmute it, put it through your body and pop out something more beautiful and more helpful."
Iranian-French actress Golshifteh Farahani, a co-juror, spoke about the symbolism of being in Berlin, especially in the context of what is happening in Iran.
"It's very symbolic to be in Berlin, a city that broke the wall towards equality, freedom and brought so many people together. This year with Ukraine, Iran and the earthquake, it feels like the whole world is disintegrating - especially now with Iran," said Farahani.
"In a country that is a dictatorship like Iran, art is not only an intellectual, philosophical thing – it's essential, it's like oxygen. Your existence by being an artist is put into danger. That's why it's so amazing to be here this year. Art and culture is a fire – we can all gather together and warm ourselves up. I'm really happy to be here to fight for freedom, in Iran and in the world," said the actress. The applause was immediate.
Echoing her comments, Hong Kong director Johnnie To (A Hero Never Dies, Election) spoke about the role of cinema as a tool to counter oppressive regimes.
"Cinema represents the whole part of society. If a government wants to destroy a place, the first thing they want to do is destroy cinema. (...) If you want to fight for freedom, the first thing to do is you have to support cinema."
Come the opening ceremony later that evening, Stewart and Farahani doubled down at the Berlinale Palast theatre.
"There are a lot of oppressions against our physical selves. I'm a girl, but I'm probably the least marginal version of a woman I can be," said Stewart.
As for Farahani, said stated with regards to the Iranian regime that it "lies and executes."
"The prisons of Iran are full of innocent people," she said. "We need you to stand on the right side of history with the Iranian people. This regime will fall."
"The wall of dictatorship is a thick wall. The revolution in South Africa took 800 days, ours has been just five months. This wall is one of oppression, attacking human rights. We need all of you. We need Germany, France, Europe. We need you to stand on the right side and to acknowledge it. Call it a revolution," she said.
To cap things off, President Volodymyr Zelenskyy, as has become his habit during major cultural ceremonies, appeared via satellite to introduce Sean Penn to the stage.
Penn is currently in Berlin for his documentary Superpower, which features Penn's travels to Kyiv, his meetings with Zelenskyy, and focuses on the resilience of the Ukrainian people.
"A logical question comes up: On which side should culture and art be?" asked Zelenskyy. "Can art be outside of politics? Should cinema be outside of politics?"
Zelenskyy thanked the Berlinale for electing to ban creatives with ties to Russia, before concluding that "culture and cinema can be outside of politics, but not when it's a policy of aggression, mass crimes, murder and terrorism."
He added that the festival was "the showcase of the free world."
The opening dud and the Encounters gem
Now, onto the films themselves. We save the best for last... 
It can't be denied that the Berlinale doesn't have the greatest track record when it comes to opening films.
Last year's Peter von Kant by François Ozon was a crushing disappointment; 2020's My Salinger Year was only watchable because Sigourney Weaver is a national treasure to be protected at all costs; and memories of 2019's The Kindness of Strangers still make this critic's spleen burst into a million fleshy bits from an overload of cringe. 
The list goes on... And sadly, this year's world premiere of writer-director Rebecca Miller's marital dramedy She Came To Me doesn't break the streak of naffness.
Starring Peter Dinklage, Anne Hathaway and Marisa Tomei, this "magical ode to freedom of expression" (dixit Chatrian and co-festival head Mariette Rissenbeek) is anything but and a complete misfire.
This utterly absurd (and not in a good way) romcom sees opera composer Steven (Dinklage) is in the midst of a creative funk. He can't get it together, lacks inspiration and suffers from panic attacks. His wife (and former therapist he continues to call "Doc") schedules their sexy times and has a pronounced obsession for keeping everything Marie Kondo-spotless. She encourages her husband to go out, meander and find inspiration by getting lost. A fair piece of advice, except that on his first enforced trip outdoors, he meets exuberant tugboat captain Katrina (Marisa Tomei). She describes herself as being addicted to romance and will unblock his muse-less existence – for better and for worse.
There's little point expanding on the film's scattershot narrative, as it's all over the shop. Laughably underbaked and convoluted subplots include a teenage romance that hits a roadblock in the shape of a tyrannical and Confederate cosplay enthusiast of a stepfather and Anne Hathaway suddenly deciding she wants to quit her job to become a nun.
The bafflingly awful script, muddled tone, insulting mishandling of themes of addiction and creativity, as well as Miller's clumsy direction (including some grating aspect ratio chances that add absolutely nothing on a stylistic, storytelling or thematic level) utterly sink the film – despite some valiant efforts from the cast. Marisa Tomei emerges the most unscathed from this train crash, and there is one completely insane scene that remains memorable, featuring a naked Hathaway screaming the word "KREPLAAAAACH" – a delicious type of duuuumpling – to one of her clients.
It has to be seen to be understood. And even then, there's no guarantee what Miller was going for here.
There is some accidental catastrophe-watch fun to be had, but it's only at the film's expense. As for the final scene, it provoked audible laughter and guffaws during the press screening, and confirmed that She Came To Me was the possible demise of romance, the dooming of comedy and the final death blow to any hopes that the Berlinale can schedule an opening film that doesn't make critics seriously rethink their career choices.
Thankfully, any existential or professional vertigo was avoided, courtesy of the Encounters sidebar section entry El Eco, by Mexican-Salvadorian director Tatiana Huezo.
Huezo's previous film at the Berlinale was 2016's Tempestad, a masterfully textured film that examined the consequences of organised crime in Mexico and what mothers will sacrifice in order to protect the ones they love. It was, without hint of hyperbole, a masterpiece.
The documentary filmmaker returns to the festival with El Eco. This particular echo is the name of a remote mountain community in Puebla state, Mexico. There, life consists of the most elementary things. As the press notes state: "Being a child here is an intense experience from day one, involving nature, animals and people. But also love, intimacy, illness and death."
Huezo constructs an intimate portrait of the tender and often harsh realities of an isolated community through three generations of women. We observe the care-working matriarchy and the responsibilities passed down from generation to generation, regardless of whether these life burdens are offered up prematurely.
Beautifully photographed by cinematographer Ernesto Pardo – who also shot Tempestad and has a mesmerizing way of filming hands of all ages in this film – one of El Eco 's most outstanding elements is the increasingly ominous soundscape from Leonardo Heiblum and Jacobo Lieberman; as if working in tandem with tales about witches feasting on the blood of newborns, the striking score highlights that while there may be communal joys, hardship lurks, nature can be cruel, and communities are fated to fracture.
Adequate words fail to fully encapsulate the evocative effect created by El Eco. It not only recaptures the dirge-like draw and poetic power of Huezo's previous films, but immerses the viewer in a spellbinding mosaic that won't be forgotten in a hurry. 
Stay tuned to Euronews Culture for more updates on this year's Berlinale.