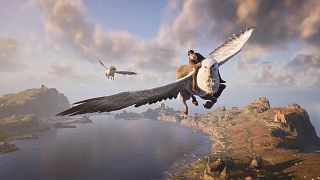 -
Copyright

Warner Bros Ents/Portkey Games
Fictional wizard Harry Potter has been an unavoidable part of our lives for 26 years this summer - and video game released this week will take fans even deeper into the so-called Wizarding World. 
The game's drop, though, has been mired in contention.
Warner Brothers' 'Hogwarts Legacy' is, according to gaming critics, the most impressive video game to come out of the iconic franchise in its history.
Out this Friday (10 February) on PS5, Xbox Series X and PC, with PS4, Xbox One and Nintendo Switch versions launching later in the year, the game is embroiled in controversy.
The first release of a major Harry Potter game in a decade is facing a boycott from many former fans of the series, thanks to the views of the wizard's creator J. K. Rowling.
The famous author is considered a champion of women's rights, but has faced mounting criticism for her stance on trans issues, which have ramped up since 2020. 
Among other opinions, her views on self-ID, allowing trans women in to single-sex spaces such as women's prisons, have seen her attacked by transgender people and their allies, who call her a TERF (trans-exclusionary radical feminist) and claim she has ruined her legacy.
Rowling denies being transphobic but there's little doubt her opinions will impact on the game's release, with many choosing to boycott it before it even hits stores.
Boycott and backlash
A Twitter video encouraging people to avoid the game amassed over nine million views; the GameSpot website has published a piece on Rowling's 'anti-transgender' stance and gaming forum ResetEra has forbidden all of its members to even mention the game.
One Twitch streamer has even started a fundraiser for the Mermaids charity - which has supported transgender, non-binary and gender diverse young people and their family for nearly thirty years - asking people to donate the €56 cost of the game instead of buying it. The effort has so far raised around €8,000.
Despite the backlash, 'Hogwarts Legacy' has been the subject of excitement from gamers and Harry Potter fans alike. Critics who've seen early release copies of the game have given it mostly positive reviews, lauding its faithfulness to the original books, graphics and storytelling.
Playing the game
Players of 'Hogwarts Legacy' will take on the role of a fifth-year student at Harry Potter's fictional school Hogwarts, in the game set in the 1800s. It's said to be very immersive, with players able to roam around the school, nearby village Hogsmeade, the Forbidden Forest and surrounding areas as they practice learning spells and creating potions.
Interestingly, the game is said to include a trans character, a decision which has been hailed as 'performative' on Twitter.
Keen to separate the art from the artist, Warner Brothers confirmed in an FAQ on the game's website that Rowling was not directly involved in the creation of Hogwarts Legacy, but admitted they "collaborated closely" with her team on the project.
Ahead of Friday's release though, the controversy is unlikely to die down. Actor Sebastian Croft, who provides one of the voices in the game, claimed he did not know about Rowling's views when he accepted the role, tweeting, "I believe whole heartedly that trans women are women and trans men are men".
Croft joins the stars of the Harry Potter films, including breakouts Daniel Radcliffe and Emma Watson, in speaking out against Rowling's comments.