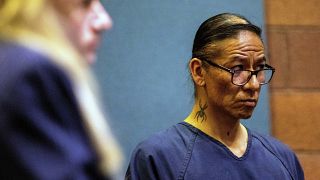 -
Copyright

Ty ONeil / AP
Nathan Chasing Horse - who appeared in the Oscar-winning film Dances With Wolves - has been formally charged with sex trafficking, sexual assault and child abuse in Nevada.
The actor, 46, is accused of sexually abusing Indigenous girls and women for two decades in multiple states, crimes that prosecutors said occurred in the Las Vegas-area starting in 2012.
Prosecutors also filed an additional felony charge this week in connection with what detectives said were videos saved on a phone showing sexual assaults of a minor.
During a brief appearance in a North Las Vegas courtroom, the judge postponed hearing arguments about his custody status until Chasing Horse's new California-based attorney, Alexandra Kazaria, has additional time to obtain permission from the State Bar of Nevada to represent him in the case. Nevada law requires prosecutors to present convincing evidence that a defendant should remain in custody.
Chasing Horse is being held without bail at a jail in downtown Las Vegas. He has been in custody since his 31 January near the North Las Vegas home he shares with his five wives.
Some of the victims and their supporters held signs inside the courtroom reading "NO MORE STOLEN SISTERS" and "WOMEN AREN'T PRISONERS."
Chasing Horse played the role of Sioux tribe member Smiles a Lot in Kevin Costner's 1990 film.
Since then, he has built a reputation in the US and in Canada as a "medicine man", a position he abused according to police. Detectives described Chasing Horse in a 50-page search warrant as the leader of a cult known as The Circle, whose followers believed he could communicate with higher powers.
After SWAT officers took him into custody last week, detectives searched the family's home and found guns, 41 pounds (18.5 kilograms) of marijuana and psilocybin mushrooms, according to the arrest report.