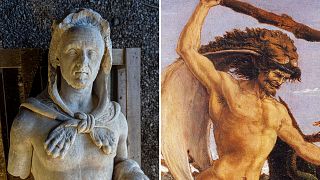 A statue believed to be around 2,000 years old has been found in Rome during repair work to a sewage system.
The life-sized marble statue portraying a male figure dressed as the mythological Roman hero Hercules was discovered in a public garden in Rome during works to restore sewage pipes, in the surroundings of the archaeological area of Appia Antica.
It emerged, face first, as a bulldozer was tearing through old pipelines that needed replacing. An archaeologist in charge of the project immediately intervened. 
While these kind of findings are very common in Rome during excavations, workers from Acea (a multi-utility company in the field of water and energy) only encountered the statue after weeks of work without prior trace of any archaeological evidence, 10 metres under the ground.
Archaeologists so far believe the statue could date to the Imperial age, and hypotheses on the identity of the portrayed man have already been made.
According to archaeologist Francesca Romana Paolillo, one of the archaeologists working at the Appia Antica Archaeological Park, the statue's traits resemble those of the Roman emperor Decius, who lived in the 3rd century AD.
The artefact was discovered near the ancient Appian Way, the 650 kilometre long road which connected Rome to the city of Brindisi on the heel of the boot-shaped peninsula.
This was one of the most important roads ever constructed by the Romans.
Other recent discoveries
In other Herculean news, last month an ancient fresco depicting the demi-god was returned to Italy, along with 59 other important artefacts after being illegally trafficked to the US. 
Last summer, US authorities announced that the fresco and dozens of other trafficked objects, which ended up in private collections in the United States, would go back to Italy.
Among the more precious pieces returned to Rome is a B.C. kylix and a shallow two-handled drinking vessel, believed to be around 2,600 years old.
Furthermore, in November last year an "exceptional" trove of bronze statues, preserved for thousands of years by mud and boiling water, was discovered in a network of baths built by the Etruscans in Tuscany.
The discovery of the 24 statues, in the sacred baths of the San Casciano dei Bagni archaeological dig near Siena, is one of the most significant ever in the Mediterranean and certainly the most important since the 1972 underwater discovery of the famed Riace bronze warriors. 
Jacopo Tabolli, who coordinated the dig for the University for Foreigners in Siena, said the discovery was significant because it sheds new light on the end of the Etruscan civilisation and the expansion of the Roman empire, which was marked by wars and conflicts across today's Tuscany, Umbria and Lazio regions.