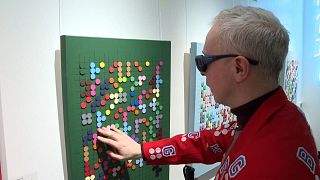 The Quantus Gallery in London is hosting the first solo exhibition of acclaimed visually impaired artist Clarke Reynolds, who aims to break down barriers and inspire a new generation with his colourful braille artworks. 
His work is accessible for everyone: the sighted, unsighted and visually impaired. 
The exhibition titled, 'The Power of Touch', invites its visitors to touch, feel and experience Reynolds' distinctive Braille art. 
Sighted members are given special glasses where they can sample the art the same way a blind / partially sighted person would. 
Through the tactile language of raised circular dots, Reynolds expresses his journey as an artist, bringing to life the experience of those who are blind or visually impaired in a way that is both visually stunning and emotionally moving. 
"Obviously, when I learnt Braille three years ago, it was like 'how can I make it accessible for everyone?', and I was like, well, Braille is not meant to be seen," explains the artist. 
"Then I had the idea of giving it colour and behind you, they look like something very pop-arty, but the colours aren't random. So what I did... I looked at the commonality of letters appearing in words, then used colour theory, so they weren't just random colours I plucked out of the air," he adds. 
Who is Clarke Reynolds?
Reynolds' journey as an artist has been a testament to his unwavering spirit and determination.
Born partially sighted, Clarke once had a career as a dental model maker, but he was forced to give up his job after his sight continued to deteriorate. 
With textiles as his muse, he discovered a new world of creative expression through the tactility of fabrics and the added dimension of sound. Today, he is not only an accomplished artist working in his Portsmouth studio, but also a dedicated educator who is passionate about promoting the benefits of Braille.
In recognition of his contributions, Reynolds has a class named after him at London's Kings Cross Academy, where he teaches Braille to students.
Through his art and teaching, Reynolds continues to inspire and impact lives, as Braille is currently used by 30,000 people in the UK alone. 
His first solo exhibition at the Quantus Gallery in London runs from until 4 February 2023.