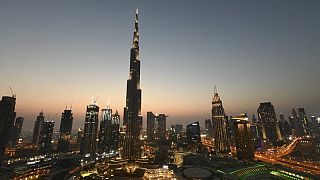 -
Copyright

KARIM SAHIB/AFP or licensors
A class action lawsuit is being launched in France by 102 alleged victims, one that accuses a couple of French social media influencers of deliberately leading them to lose money on trading and NFT platforms. 
Their lawyers say the couple are not the only scammers involved, as there are thousands of potential victims across the world. 
One of the denounced scams concerns a so-called NFT platform, Animoon, that was also promoted in the US by Jake Paul, brother of infamous celebrity Logan Paul.
Marc and Nadé Blata live in Dubai, and both used to regularly share investment advice with their millions of Instagram followers. Since the case was made public, Instagram's owner Meta has deleted their accounts. 
The alleged scam
The charges specifically concern Animoon and the $6.3 million (approx. €5.8 million) it raised - but none of the investors got their share.
Marc Blata also used to have a Telegram channel where he gave out copy-trading advice, which means he was advising his subscribers on financial investments by telling them to copy his own techniques and to emulate his self-proclaimed success in the trading sector.
One woman, who wishes to remain anonymous, says she invested €500 based on Blata's counsel, hoping to make profits. But weeks later, she claimed to be a victim of a scam after all trace of her cash disappeared.  
X marks the spot
The Dubai couple is not the only one suspected of fraud. The charges were pressed against 'X', a French legal term to avoid naming specific people, and allows the investigation to be about as many possible culprits as possible.
A lawyer for the French alleged victims, Jocelyn Ziegler, told Euronews Culture that "to practice copy-trading, meaning making money by giving advice on trading, one has to be a trader."
"To do so in France, you need a market authorisation from financial authorities. He claims this is not a scam, as he lives in Dubai, but what he does not understand is that he is selling services to French nationals - he writes everything in French and speaks in French. This means he must have a French authorisation, but he doesn't."
Ziegler added that he is confident about cooperation from Dubai as he believes authorities are becoming increasingly annoyed by the attitude of some foreign influencers who live there.
The couple defends its practices
In several Instagram stories published before deleting his account, Marc Blata could be seen in a car talking about the alleged victims he called "dumb".
He went on about Western authorities going after people like him and his wife, saying it's because they wish they could tax them. 
On the charges brought against him, Blata said that if out of the thousands who took his advice, only dozens failed, "then such results are more than satisfying."
How to avoid getting scammed
Making profits by investing in trading or NFTs demands a strong knowledge of the financial sector. 
Some rare success stories can be found online, but there are many more examples of personal loss or even bankruptcy.
Being wary of TV celebrities turned social media influencers on financial investments is a first step. France's Economy Minister said in a Twitter thread that 60% of the influencers' accounts recently checked by authorities presented at least some "anomalies", some even being illegal and clearly committing fraud. 
Like UK authorities, France is trying to be active in eliminating online fraud, but it's a challenging task as scams can take place on several platforms that do not obey the same legal systems.
If you fear you've been victim of an online scam, you can visitthis websiteto find your country's European Consumer Center, and get legal advice.