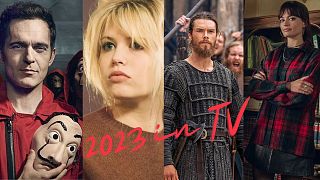 Copyright

Various - Euronews
-
Despite the casualties of last year's streaming wars (RIP HBO Max and Netflix's "The Baby-Sitters Club"), 2023 is poised to be another year of prolific new TV releases.
There are so many new shows coming out on both sides of the Atlantic that there's bound to be something to tickle everyone's fancy - and it would take ages to list them all here.
That's why we're bringing you our most-anticipated European TV series that are launching or coming back in 2023.
From spinoffs of fan-favourites to book adaptations and returning hits, here's what we're most excited to see streaming on our screens this year.
Berlin (Money Heist) - Spain - Release date TBA
After the international phenomenon "La Casa de Papel (Money Heist)" ended in 2021, Netflix is revisiting the universe with a spinoff that focuses on the backstory of mastermind robber Berlin. Though the streaming giant has been tight-lipped about upcoming release dates, it confirmed the show would premier sometime in 2023. The Spanish series follows Andrés "Berlin" de Fonollosa, played by Pedro Alonso, in the years before he linked up with the rest of the team to rob the Royal Mint of Spain.
Where to watch: Netflix
Extraordinary - UK - January 25
What's it like to be the only ordinary one in an extraordinary world? This new take on the superhero genre follows outcast Jen, who is 25 years old and powerless in a world where everyone receives some kind of superpower at age 18. The eight-part series is made by the creators of "Killing Eve" and stars Belfast actor Máiréad Tyers as Jen.
Where to watch: Disney+ in Europe, Hulu in US
Vikings Valhalla Season 2 - Ireland - January 12
The second season of the "Vikings" prequel looks more epic than ever. Taking place in the 11th century, the show follows some of the most famous vikings in history on a "sword-swinging, globe-trotting adventure," per Netflix. Shot on-location in Ireland, Season 2 puts the show's heroes – legendary explorer Leif Eriksson (Sam Corlett), his headstrong sister Freydís Eiríksdottir (Frida Gustavsson) and Norway's prince Harald Sigurdsson (Leo Suter) – through new challenges as they leave their comfort zones for hostile lands.
Where to watch: Netflix
Lupin Part 3 - France - Release date TBA
France's most famous thief is back for Part 3 of "Lupin". Starring the boundlessly charming Omar Sy, the third instalment of Netflix's breakaway French hit finds Assane Diop in hiding, now the most wanted man in the country. He'll have to navigate that new infamy while trying to keep his family together. Should make for some entertaining viewing.
Where to watch: Netflix
Bardot - France - Early 2023
In the 1950s and 60s, Brigitte Bardot's doe eyes and barefoot whimsy caught the eye of directors like Roger Vadim and Jean-Luc Godard, who catapulted her to legend status in European cinema. This new mini-series, produced by France Télévisions takes a look at Bardot's early years - from her 15th to 25th birthday. The stylish period drama stars newcomer Julia de Nunez as "BB".
Where to watch: France 2 in France, TBA elsewhere
Domina Season 2 - UK - May
This ancient Rome series produced by Sky and MGM+ follows the rise of Emperor Augustus Caesar's third wife Livia Drusilla (Kasia Smutniak), who will go on to become Rome's most powerful and influential empress. Filmed at Rome's historic Cinecittà Studios, Season 2 will continue to explore the inner workings of the Roman Empire from the perspective of its women.
Where to watch: Sky Go in Europe, MGM+ in the US
Sex Education Season 4 - UK - Release date TBA
Netflix's raunchy British teen dramedy is back for a fourth season, which is expected to be released in the second half of the year. There are a lot of changes to look forward to, with new cast members, new locations, new writers and new directors. That means we'll be seeing less of characters like Maeve, confirmed actress Emma Mackey, but fan-favourites like Gillian Anderson's Jean Milburn will be back for more shenanigans.
Where to watch: Netflix
The Lying Life of Adults - Italy - January 4
Italian author Elena Ferrante's most recent novel is adapted into a six-episode Italian language mini-series on Netflix, transporting fans back to Naples in the 90s. The moody coming-of-age tale follows sheltered young Giovanna (Giordana Marengo) who, with the help of her estranged aunt Vittoria (Valeria Golino), discovers a new face to her hometown, and herself.
Where to watch: Netflix
Copenhagen Cowboy - Denmark - January 5
Enter the ominous landscape of Copenhagen's underworld with enigmatic young renegade Miu. This noir-thriller from Danish director Nicolas Winding Refn (Drive, Pusher) toes the line between natural and supernatural as we follow Miu on her quest for revenge against her nemesis. At the very least, the Danish-language series is guaranteed to be visually stunning.
Where to watch: Netflix
All the Light We Cannot See - US/UK - Release date TBA
Based on the Pulitzer prize-winning novel by Anthony Doerr, Netflix's four-part limited series "All the Light We Cannot See" follows German soldier Werner (Louis Hoffman) and blind French teenager Marie-Laure (Aria Mia Loberti) from 1934 to 2014 as they pass through the horrors of World War II and build new lives. Shot in France, Germany and Hungary, the series stars familiar faces Mark Ruffalo and Hugh Laurie, as well as newcomer Loberti, who is legally blind.
Where to watch: Netflix