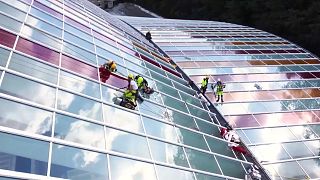 -
In Belgium, an art installation at the city of Liège's Guillemins station is brightening up the iconic building as well as the mood of the passengers.
French artist Daniel Buren has covered much of the station's glass canopy with translucent vinyl, diffusing vibrant coloured light throughout the interior.
Sébastien Charlier, an architectural historian at the University of Liège, says the effect is universal.
"It boosts a reaction. It casts the reflection on everybody, everybody," he explained. "My kid is 13 years old, art isn`t really his passion but it has marked him."
The ephemeral installation is also a logistical triumph. It involved putting in place around 5,000 self-adhesive translucent vinyls covering more than 10,000 square metres of the glass surface of the canopy.
Frédéric Regnier of Altura Access oversaw the project.
"The first step was to clean the tiles, degrease them and then put on soapy water to put the vinyl in place," he said. "Once it's in place it's a question of trimming it to fit perfectly, leaving a tolerance between the vinyl and the joint."
Passengers in transit through the station or visitors to the Belgian city will be able to admire the colourful and illuminating display until mid-October 2023.