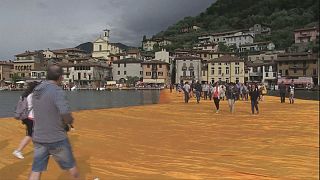 Italy's Lake Iseo, northeast of Milan, is being reimagined by Bulgarian-born artist Christo, in an installation called The Floating Piers.
It is not propaganda, it is not messages, not anything, it is only a feeling.

Installation artist
One hundred thousand square meters of fabric covers a modular floating dock of plastic cubes, allowing visitors to walk on the water. The three-kilometre walkway joins mainland Sulzano to the islands of Monte Isola and San Paolo, normally only accessible by boat.
Christo, installation artist: "Our project is all about joy and beauty. Absolutely, totally useless, unnecessary. Nobody needs them except myself, Jeanne-Claude (his deceased wife), and some friends, and this is why they have this irrational, absolutely inexplicable freedom that exists, because it is … what is it? It is not propaganda, it is not messages, not anything, it is only a feeling. See it, feel it, move it – have all the senses."
Despite poor weather conditions, thousands of visitors queued for hours this past weekend for the opening of the art installation, which will remain on the lake until July 3.
Christo: "The work of art is not the fourteen days or sixteen days. The work of art is all that journey … Altogether the work of art and [what] it created for many, many weeks or months or years, it created expectation, people against the project, people for the project and finally the work is installed."
The fabric is even draped on some of the streets of Sulzano.
Particularly on the water, its colour changes from red to gold depending on the light.
Half a million tourists are expected to experience the Floating Piers.