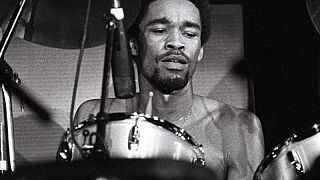 -
Fred White, drummer of the legendary US soul and RnB band, Earth, Wind & Fire, has died aged 67.
The news was shared by his brother and bandmate Verdine White in an Instagram post.
Verdine described his brother as an "amazing and talented" gifted child musician, who "had gold records at the young age of 16 years old!"
He is "now drumming with the angels!", he added. 
Frederick Eugene White was born in Chicago and joined Verdine and their brother Maurice in Earth, Wind & Fire in 1974.
Earth, Wind & Fire began in 1970 under the leadership of Maurice, who created a band that could combine elements of jazz, funk, R&B, soul, dance, pop and rock, and celebrated African musicianship and spiritualism. 
Driven by their horn section, The Phenix Horns, and a reputation for energetic and bombastic live performances, the group's popularity grew after they moved to Columbia Records, which was then under the leadership of Clive Davis.
Fred White was already an accomplished drummer, playing for Donny Hathaway, before he joined his brother. Paired alongside drummer and percussionist Ralph Johnson, the band's rhythm section was tight and upbeat and set the stage for songs like "Boogie Wonderland" and "September" to become instant favorites.
Some of the band's biggest hits are still widely popular, often sampled and used in countless movies.
The group went on to win 6 Grammy awards between 1975 and 1982 and "Freddie" left the band in 1983. 
The band was inducted into the Rock and Roll Hall of Fame in 2000 and was awarded a Grammy Lifetime achievement award in 2016.
Watch the video in the player above.