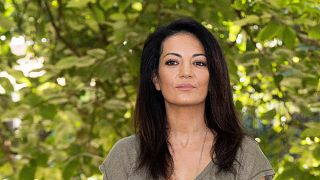 -
The director of a Moroccan film shortlisted for an Oscar says she hopes it will provoke "a healthy, much-needed debate" around LGBTQ+ rights in the North African country.
The Blue Caftan (Le Bleu du caftan), directed by Maryam Touzani, premiered in the Un Certain Regard section at the 2022 Cannes Film Festival and shared the Jury Prize at the 2022 Marrakech Film Festival with Cristèle Alves Meira's Alma Viva.
It has been shortlisted in the International Feature Film category for next year's Oscars, which take place on 12 March 2023.
The movie tells the story of a married couple who sells traditional robes (caftan) in one of Morocco's oldest souks. Their relationship changes when the closeted husband becomes attracted to a young man, their new apprentice.
"I think we are starting to become more open because we are starting to see articles in the media that talk about people from the LGBTQ+ community. Before, they were never mentioned," says Maryam Touzani.
"In other words, they are starting to exist in the eyes of society and the media, which is already a big step forward. But I think we are still quite far away."
Touzani added that an official committee chose her film to represent the country at the Oscars - a surprising move as same-sex acts are punishable by up to three years' imprisonment in Morocco. Laws in other parts of North Africa and the Middle East can be even stricter.
"What I want to achieve through this film is creating empathy for the characters, getting to know them, giving them a chance to understand who they are, to love them as they are," says the director.
"And that's why it's a film about love for me above all. It's not a film about homosexuality. It's a film about love. And I really think that nobody has the right to tell us who we can or cannot love, no matter where we live in the world."
The nominees for the 95th Academy Awards will be announced on 24 January 2023, and Maryam Touzani's The Blue Caftan is so far set to be released in theatres in Spain on 24 February, France on 15 March and Netherlands on 23 March.
Check out the video above for extracts of the film and the interview with director Maryam Touzani.