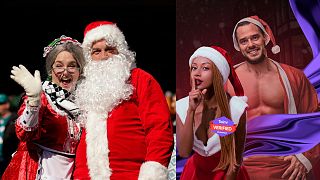 Copyright

Taimi/Adam Hunger
-
Millions of boys and girls will find out tonight or tomorrow morning if they've been good or not this year as Santa will be delivering wanted, and probably some unwanted, presents on Christmas Eve. 
At any time of the year, it's better to give than to receive, so in the true spirit of the season, Euronews Culture is presenting you with an alternative version of Father and Mother Christmas.
An LGBTQ+ dating app has some interesting ideas about how Mr and Mrs Claus stay warm at the North Pole.
The new version of Mr and Mrs Claus - Nick and Jesse - certainly appear to be happy, they're also ethically non-monogamous (ENM), LGBTQ+ and sexually adventurous. With this move Taimi is hoping to spread some sex-positivity and spice up Christmas. 
"This year we decided to give some Christmas ho-ho-ho to our customers as they can challenge themselves and develop their dating skills, once they meet our fabulous experts," says Roman Kalynchuk, Product Manager at Taimi.
Taimi, which is available in 138 countries around the world, was started by Ukrainian tech-entrepreneur and LGBTQ+ ally Alex Pasykov who joined with fellow Kyiv-resident Jake Vygnan to start dating app for gay men. 
The app soon expanded to be inclusive for users across the sexuality and gender spectrum and now boasts 10 million users worldwide. 
Who are the new Mr and Mrs Claus?
Taimi users can swipe left or right on profiles of Nick and Jesse Claus, a couple in a mixed-gender relationship who are proud members of the queer community and enjoy an open relationship.
Nick is a pansexual dominant top while partner Jesse is a 'switch' meaning she enjoys both dominant and submissive sexual roles. If users choose to match with either of the pair, they can get dating advice, sex tips, and even win a premium subscription by taking part in a dating challenge.
"The best tool for sex isn't an expensive toy!" Reads one piece of advice. 
"It's your time. Take time out of your day to enjoy intimacy with your partner...or partners!" 
"Sex isn't just the main act," read another. 
"It's also foreplay and aftercare. Make sure you take care of both!"
With this innovation Taimi hopes to make Christmas more inclusive and sex positive, 
"This is a great opportunity for everyone who wants to have some fun and, at the same time, receive some guidelines during their fluid-dating journey," adds Kalynchuk. "Who knows who you're going to be kissing under the mistletoe this time?"