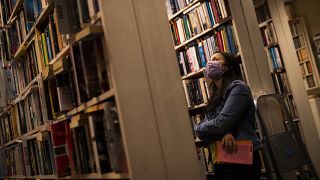 -
Copyright

AP Photo/Francisco Seco, File
Scotland's Douglas Stuart has won the 2020 Booker Prize for his first published novel, Shuggie Bain, which draws from his own experience growing up in 1980s Glasgow.  
Stuart, 44, is a New York-based fashion designer who spent ten years working on the book, which tells the story of a young boy, Shuggie, and his relationship with his alcoholic mother. 
The novel was dedicated to Stuart's own mother, who died when he was 16. 
"My mother is in every page of this book, and without her, I wouldn't be here and my work wouldn't be here," said Bain, who declared himself "absolutely stunned" to win.
The result was announced on Thursday night at an online event, the usual black-tie dinner was shelved due to the COVID-19 pandemic.
"We were bowled over by this first novel, which creates an amazingly intimate, compassionate, gripping portrait of addiction, courage and love," the judges said of the book.
"The book gives a vivid glimpse of a marginalised, impoverished community in a bygone era of British history. It's a desperately sad, almost-hopeful examination of family and the destructive powers of desire."
Stuart will receive £50,000 (€55,800), while each finalist takes home £2,500 (€2,790). He was the only U.K.-born author on a U.S.-dominated list of six finalists for the prize, which is open to English-language novels from around the world.
The six books on this year's shortlist— from four female and two male authors — were revealed in April.
The other five books on the shortlist were:
The list omits high-profile books including "The Mirror and the Light," the conclusion of Hilary Mantel's acclaimed Tudor trilogy. Mantel won the Booker for both its predecessors, "Wolf Hall" and "Bring up the Bodies" and had been widely tipped for the hat trick.
Obama's new memoir, "A Promised Land," was published this week and sold almost 890,000 copies in the US and Canada in its first 24 hours.
Last year's prize was won jointly by Canada's Margaret Atwood for "The Testaments" and Britain's Bernardine Evaristo for "Girl, Woman, Other".
The 2020 International Booker Prize — awarded for a book translated into English and published in the UK or Ireland — went to Dutch poet and writer Marieke Lucas Rijneveld for her novel "The Discomfort of Evening".