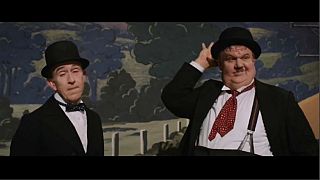 Once upon a time Stan Laurel and Oliver Hardy were the biggest movie stars in the world, basking in the arc lamps of full-on Hollywood celebrity.
New move "Stan & Ollie" starts at their zenith before moving from the California sunshine to grey post-war Britain, where they are obliged to tour half-empty theatres after their star wanes.
The movie had its world premiere in London, closing the London Film Festival. Critics have been raving about Steve Coogan and John C. Reilly's performances.
Steve Coogan says, "Yes, sitting down to watch, to re-watch, a lot of their films, it was an incredible experience to just have a, to be able to watch things I'd seen as a child.
Jon S. Baird, director says, "We got the boys in make-up and costume for the first time, and I didn't watch them, I watched the crew's reaction when they walked out on set, to do this camera test, and their jaws just dropped you know. And from that moment I kind of thought, 'Ooh, we could be on to something here.'"
The men are accompanied by their wives as they make their sorry way around the variety circuit and the movie is as bittersweet as funny. It is released in European cinemas later this year.