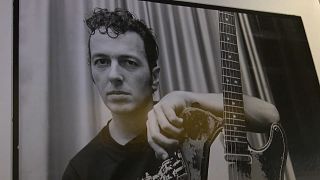 It all began in 1980, at a concert of the Cure. He's a rock star but he is not a musician. The famous 56-year-old photographer Richard Bellia came to Athens for his solo exhibition "Richard Bellia: An Eye On Music". His lens has captured the energy on stage, the feeling of concerts, the vibe of different groups and singers.
He starts his world tour at the Greek capital, showcasing his art, a musical journey of 36 years of rock. Music is his passion.
Richard Bellia, Photographer says, "I do not like photography very much. It does not interest me much. I am much more likely to concentrate, to spend time, to listen to music. I prefer the company of people who love music than ... Ahh ... the photographers, they are all the same. I prefer music a lot. Music is my first love".
In 2016, the French artist published a book of his photography called 'An Eye on Music' ("Un Oeil Sur La Musique: Textes et Photographies 1980-2016")
Yorgos Mitropoulos, Euronews says, "This is a real musical encyclopedia with photos. This photo book includes more than a 1000 shots of dozens of rock idols of the last four decades".
He can tell a thousand stories from the stars he's met.
Richard Bellia, Photographer says, "The people I photograph, they want us to listen to their music. They do not want this because they are beautiful. People who are beautiful make attractive music. It is a law. It's the truth".
The photo event runs till October 14. Next stop for the exhibition: Perugia (November), Nevers, Toulouse, and Perpignan (December).