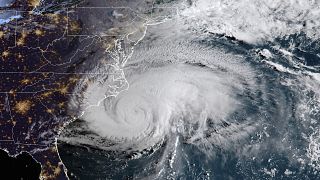 -
By Rebecca Dube with TODAY Lifestyle
With Hurricane Florence bearing down on the East Coast and nearly 2 million people warned to evacuate, how can parents calm their little ones' fears while keeping their own anxiety in check?
We asked TODAY meteorologists Al Roker and Dylan Dreyer for advice. Their first (and best) advice: If you are in the storm's path, get your family to safety away from the coast.
Then, why not use this enforced family time to learn a little science?
What is a hurricane
"A hurricane is earth's way of transferring energy across the planet," Dylan Dreyer explains. "Like when you're hot under the covers and kick a leg out!"
Al Roker wrote a book for kids explaining the science behind hurricanes and all sorts of weather phenomena.
"When ocean temperatures reach 80 degrees Fahrenheit and tropical winds blow, water from the ocean's surface evaporates and rises to form clouds. Just like they do over land, rising air and moisture over water can turn into storms. Thunderstorms on land usually die out when cold air, dragged down by the rain, cuts off the storm's source of moisture. But warm oceans have plenty of fuel to keep a hungry storm going. Water vapor continues to rise, releasing its energy and creating strong winds," Al Roker writes in his 2017 book, "Al Roker's Extreme Weather."
Once everyone is safe, Dreyer said, "Look at this as a time to hang out with your family. The power will likely go out, so have flashlights ready to go. Cards and board games are fun and don't require batteries, so have those handy."
Tracking Hurricane Florence
Hurricane Florence was expected to make landfall early Friday in North Carolina, and then possibly stall as it churns its way down the coast, FEMA spokesman said, meaning that the Carolinas could endure hurricane-force winds and rain for 24 hours or more. The National Hurricane Center has warned that "life-threatening storm surge and rainfall" are expected.
If kids (or parents) get scared of the howling winds, Dreyer advises gathering everyone in the bathroom because it's the safest room in the house. Of course, if water starts rising, get to the highest level you can.
The Florida Sun-Sentinel (old pros at hurricane prep) has put together a useful hurricane guide, here. Among their tips for going through a storm with kids:
Riding out the storm in a blanket fort can help kids feel secure.
Have them pack a fun bag for the storm — and keep the bags close, so when the power goes out, entertainment is at hand.
Set up an area with no-power-needed entertainment, such as Lego kits and board games.
See more helpful tips from the newspaper's guide here.