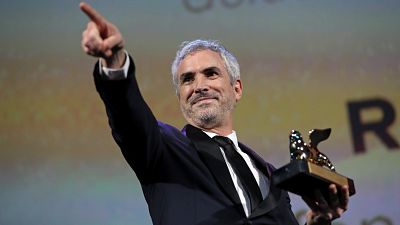 Mexican Oscar-winning director Alfonso Cuaron's "Roma" won the Golden Lion at the Venice Film Festival on Saturday, bringing online streaming company Netflix its first major win at a film festival.
"Roma", named after the neighbourhood in Mexico City where writer-director-cinematographer Cuaron grew up, was described as "shimmering" by critics thanks to its black-and-white cinematography.
"The Favourite", another movie with a strong female focus, won the runner-up Grand Jury Prize and its star, Olivia Colman, won the Volpi Cup for best actress for her uproarious portrayal of England's Queen Anne.
Willem Dafoe won the award for best actor for his portrayal of Vincent Van Gogh in the biopic "At Eternity's Gate".
Jennifer Kent, the only female director in the main competition, won the Special Jury Prize for bloody revenge thriller "The Nightingale" whose male lead Baykali Ganambarr won for best up-and-coming actor/actress.