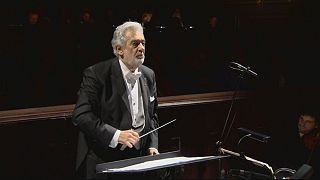 Every year Plácido Domingo's annual singing competition, Operalia, honours the art form zarzuela, preserving the legacy of a Spanish tradition, close to his heart. Domingo began his career in his parents troupe who were world-famous zarzuela performers in the 20th century.
"Zarzuela of course, it was the music that my parents dedicated their lives to and because of that from the first year I said I want to give a prize to the singers for Zarzuela. And every day more and more of the candidates sing Zarzuela," he said.
Often compared to operetta, zarzuela is a compelling fusion of song, prose and dance. This year first prize was awarded to mezzo Emily d'Angelo and the tenors Pavel Petrov and Luís Gomes.
"It's so passionate, there is something about Spanish music that is so vicseral, so from the heart. There is always something a little bit dark about it that is really moving and it comes from a deep place I'm not an native speaker by any means but to get to explore the language and the culture has been really wonderful, a new experience for me and I'll definetely continue to sing it," said mezzo-soprano Emily D'Angelo, who this year nearly pulled off an unprecedented clean sweep of all of Operalia's top prizes.
"For me zarzuela is like singing from my heart because it's really dramatic not for your voice but for your character, you are playing... It's amazing," said Pavel Petrov.
"For me especially... the place in Portugal where I come from we are very used to have this kind of music, the bullfight music and all this Spanish kind of feeling and it touches very deeply," said tenor Luís Gomez. "It is kind of in our blood as well. I enjoy the music and I really like the way they put the words, the Spanish words, into this music. Yes, that's why I decided to do it."
"I'm very happy that I have really been able to do Zarzuela around the world and more and more singers know the Spanish music and they love it," said Plácido Domingo.