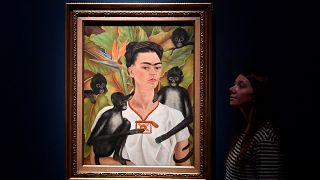 London's Victoria and Albert Museum is showing a fresh perspective on Mexican artist Frida Kahlo. Self-taught, Frida was left disabled by polio as a child, and at the age of eighteen was seriously injured in a near-fatal bus crash. She had to wear corsets for the rest of her life and later had one leg amputated.
"Frida's identity, her appearance, her art, are all wrapped up in the landscape of her disabilities. She lived her life in pain but she transcended it," said Claire Wilcox, co-curator of the exhibition.
The exhibition is called "Frida Kahlo: Making Her Self Up", and it brings together the artwork, photographs and personal belongings of the revered 20th-century artist.
Twenty-two of her distinctive outfits dominate the show - colourful, floor-length garments that encapsulate the indigenous Tehuana style that Kahlo embraced.
Kahlo's personal items were locked away in her home for half a century after her death in 1954 before they went on public show.
Many of them have found their way to the UK thanks to the Museo Frida Kahlo.
"It's the first time that we see Frida as the persona, Frida the artist, but also the woman who didn't let her disabilities define her but defined who she was in her own terms, said Circe Henestrosa, the Mexican co-curator."
The exhibition runs at London's Victoria and Albert Museum until November 4, 2018.