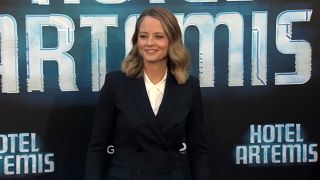 A futuristic members' club for criminals, which is actually a hospital, provides the theme for Jodie Foster's latest action thriller, "Hotel Artemis".
Set in 2028 Foster plays the nurse who runs the unit.
She's surrounded by an all-star cast including Sterling K. Brown, Sofia Boutella, Jeff Goldblum and Brian Tyree Henry.
At the premiere in Los Angeles she spoke about her role. "Such an amazing character," she said.
"The Nurse. It's a complete transformation. It really is totally different than me. I feel I'm unrecognizable in a way and to play somebody who is kind of broken on the inside and have such a different physicality than I do. And to just inhabit that for this amount of time is awesome."
Hotel Artemis is the first film directed by Drew Pearce who's known for having written the screen plays for "Iron Man 3" and "Sherlock Holmes 3".
The film goes on international release at the beginning of June.