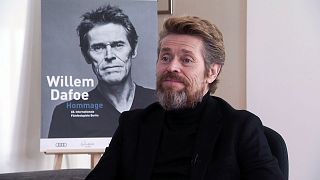 Willem Dafoe has had a rich career spanning over one hundred films. His big break came in Oliver Stone's Platoon where he was able to showcase his diverse range as an actor. He got into acting in the seventies in New York's avant guard and experimental theatre scene.
Speaking to Euronews' cultural reporter Wolfgang Spindler, Dafoe said the choice to become an actor wasn't one he made growing up. Instead, he realised that he liked performing in theatre shows. He says he received very little formal education but that during the seventies in New York 'people just made it up'.
Dafoe went on to say he knows if a script is good through an unusual method… by smelling it. Well, perhaps not entirely. Dafoe says it depends on whether or not he's seen a directors work as then he can work on their impulses rather than being tunnelled into simply following his own. He went on to say he likes films which take him to a new place and trigger something new inside him.