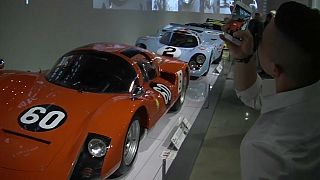 This year is the 70th anniversary of the famous German sports car brand, Porsche, much loved by music and film stars.
To celebrate the occasion, more than 50 rare sports and race cars have gone on display at a new exhibition in Los Angeles.
"The porsche effect" explores the history and significance of the brand's design, engineering, and racing legacy.
The new exhibit, organised in partnership with Porsche Cars North America, is claimed to be the most comprehensive Porsche display outside of its headquarters in Stuttgart, Germany.
It's also the largest exhibit the Petersen Automotive Museum has ever staged.
On display is an engine-revving collection of cars, historical documents and artefacts.
The aim is to show the evolution of the German brand, from its early days as an engineering house, to its modern-day road and race cars.
Terry Karges from the Petersen Automotive Museum says Hollywood played a role in the brand's success.
"Porsche actually became important in Germany because of Hollywood," he says.
"When the Hollywood stars started buying and driving Porsche, it became a very popular car in Germany.
"Until then, they weren't all that successful, but it also meant that all of the people of Los Angeles wanted to start driving what the stars were driving."
'The Porsche Effect,' which includes references to film, celebrities, popular media and even poetry, runs at Los Angeles' Petersen Automotive Museum till 27 January 2019.