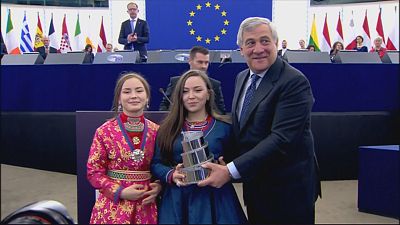 The LUX prize casts the spotlight on films that go to the heart of the European public debate.
This year's winner, Sami Blood, is a Swedish coming-of-age drama film written and directed by Amanda Kernell starring real-life sisters Lene Cecilia and Mia Erika Sparrok.
European Parliament President, Antonio Tajani, says the prize is fundamental in promoting tolerance and solidarity helping to protect diversity.
"I believe that the Lux Prize also sends a strong signal in defence of the European cultural identity," he adds.
The movie is set in the 1930s with the Sparrok sisters as the main characters in a film which centres around two Sami girls known in English as Laplanders.
The two sisters are sent to a school for nomads where teachers speak only Swedish resulting in beatings, mobbing and bullying.
The movie was inspired by the experiences of director Amanda Kernell's own grandmother.