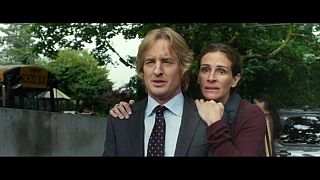 Based on a best-selling novel by R.J. Palacio and starring Hollywood A lister, Julia Roberts, Wonder is the story of a boy suffering from Treacher Collins syndrome a genetic disorder that deforms the face. At the age of 10, Auggie has already been through 27 surgical procedures to correct his birth-defect facial abnormalities.
The actress regularly appears on the list of the world's most beautiful woman, so how important are looks to Roberts?
"I did look for the people that were clever and funny and those were the kinds of things that attracted me," she says. "I mean I remember the first thing about my husband that caught my attention was just hearing him speaking."
Director Stephen Chbosky says Robert's was R.J.Palaccio's number one choice to play her lead character in the film.
"Roberts was R.J.'s dream Isabel from minute one," he explains. "It's Julia Roberts so you know it's hard to quibble you know with one of the greatest movie stars of all time."
Wonder follows Auggie as he navigates his way through bullying and making new friends and is about acceptance and tolerance towards people with dramatic disfigurements.