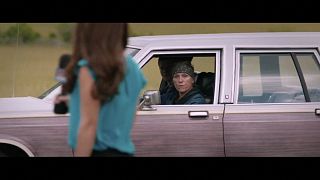 The 61st BFI London Film Festival has closed with the latest movie from writer-director Martin McDonagh, "Three Billboards Outside Ebbing, Missouri".
Frances McDormand stars in an Oscar-tipped role, and McDonagh said he was happy to close a festival dogged by the Weinstein affair with a story with a woman at its heart. The film enjoys an extremely strong cast to whip up an ink-black revenge comedy.
"I think what Hollywood should do is use Hollywood to serve the people and not their own pockets. I think that Hollywood should be used to educate the people rather than dumbing them down. I think that Hollywood should probably find some way to pull themselves up by their bootstraps," said Clarke Peters, who plays Abercrombie.
"I think the allegations are horrible and I think it's a horrible thing and it's good that there's been some light being shed on the issue, yeah," agreed Sam Rockwell, partnering up with McDonagh again after "Seven Psychopaths".
"Yeah, I think it's great. Of course it should have happened years and years ago," said McDonagh with some feeling.
Woody Harrelson came to talk about the movie, and nothing else; "You know everybody's asking about Harvey, that's about the last thing I wanna talk about," he growled aimiably.
This is only McDonagh's third feature-length outing in nearly 10 years, but it's quite a CV already as "In Bruges" and "Seven Psychopaths" are highly-regarded, and the latter also featured Harrelson, along with fellow returnees Abbie Cornish, Colin Farrell and Amanda Warren. It is always a good sign when actors and actresses happily re-sign to work with the same man.