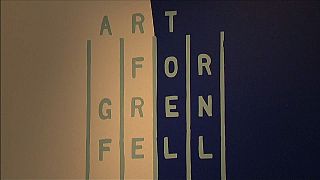 A group of Britain's most successful contemporary artists have donated valuable works to sell at a charity auction for the survivors of the Grenfell Tower fire, which killed about 80 people at a London social housing block in June.
Home to a close-knit, multi-ethnic community, the 24-storey tower in a deprived housing estate was reduced to a charred ruin by the inferno that engulfed it in the middle of the night. Many survivors have yet to be rehoused and are still living in hotels.
The charity auction, to be held at Sotheby's on Monday, includes works by A-list artists including Wolfgang Tillmans, Antony Gormley, Tracey Emin, Sarah Lucas, Mark Wallinger and Rachel Whiteread.
The proceeds from the auction, which Sotheby's estimates will range between 700,000 and 1 million pounds, will be divided equally among 158 surviving families.
On view today in #London: The exhibition for our #ArtforGrenfell charity auction is open until Monday 16 October https://t.co/hsYfW8pkoZpic.twitter.com/4OMsqcWgQP

— Sotheby's (@Sothebys) October 12, 2017
Film producer Hamish McAlpine, an art collector who was one of the driving forces behind the auction, said the Grenfell tragedy had had a huge emotional impact on Londoners, including the city's vibrant artistic community.
It would normally take six to nine months to organise an auction on this scale, but McAlpine and art consultant Katie Heller were able to put this one together in about 10 weeks thanks to the positive response from almost all the artists.
One of the works, "Lay the Dust with Tears" by Tacita Dean, was created especially for the auction. A grey and black image made with charcoal on paper, it is evocative of billowing smoke.
Other works that already existed have been renamed by the artists to honour the victims of the fire. A black-and-white photograph by Sarah Lucas has been renamed "Eating a Banana (for Grenfell)".
The most valuable artwork for sale is "Freischwimmer 193" by Wolfgang Tillmans, a very large green print. The estimated price range is 120,000 to 180,000 pounds.