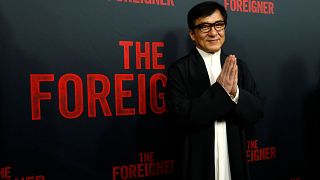 Jackie Chan is back on our screens as a humble London businessman whose long-buried past erupts in a revenge-fueled vendetta when his teenage daughter is killed in an IRA-linked terrorist attack. 'The Foreigner' premiered in Hollywood, where Chan told how he relished taking a more serious role,
"I don't want the audience to think I can only do comedy/action and stunts. I want to be a real actor like Robert De Niro … because the action star's life is very short. I'm not young anymore, I've been doing action films for 57 years and I hope the audience will see another side of Jackie."
WATCH: Jackie Chan surprises fans at a screening of his new film, ForeignerMovie</a> <a href="https://t.co/VStY4FDf2S">pic.twitter.com/VStY4FDf2S</a></p>— Entertainment Weekly (EW) October 10, 2017
The film's director, Martin Campbell had plenty of praise for working with him,
"Well if you just meet Jackie you instantly know that's what you get. Very, very professional, very talented, it's not his usual comedy, it's a very different part for him."
Pierce Brosnan joins Chan on screen, playing the ex-IRA deputy minister, Liam Hennessy.