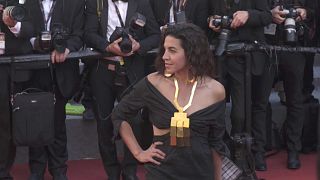 Cannes is a factory of dreams, and sometimes they come true. This was the case for Shahira Fahmy, an Egyptian architect, living between Cairo and New York, who was treading the red carpet this year for the first time with Claire's Camera a film in the Out of Competition selection by Hong Sangsoo.
Last year, she came as a visitor to Cannes, without a badge, and she happened to meet the South Korean filmmaker in a cafe, and was hired  
I shifted from architecture to acting," says Fahmy.
"I was studying for two years and I graduated last May. I decided to come to Cannes with the idea of meeting new people and finding a project. I landed in Cannes and all my friends said "you don't have a pass, you can't really see anything and you cannot enter the palais". So I ended up sitting in a cafe where I met a South Korean who came in. This was the night of the ceremony".
#Redcarpet#Cannes2017KEUL-LE-EO-UI KA-ME-LA (LA CAMÉRA DE CLAIRE / CLAIRE'S CAMERA) by HONG Sangsoo #SéanceSpéciale#SpecialScreeningpic.twitter.com/TQ1IciTTEh

— Festival de Cannes (@Festival_Cannes) 21 mai 2017
During a business trip to the Cannes Film Festival, Manhee is accused of dishonesty by her employer, and fired.
Claire, played by Isabelle Huppert, takes a walk in the city to take photos with her Polaroid. She meets Manhee, sympathizes with her, takes a picture.
 
"I consider myself very lucky. My first film was a foreign film, French South Korean, and my first ever scene was in a Hong Sonsoo film with Isabelle Huppert. That's an amazing blessing I have had in Cannes. I never thought that I would act in French nor in a foreign film. My aspiration were to come here with an Egyptian film and I want to come back with an Egyptian film.  
Shakira has a small role, but she is keen to continue especially in a country that has a great tradition of cinema.