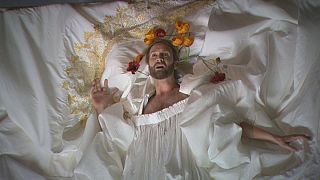 For the first time in nearly 250 years, Alcione, Marin Marais' lyrical masterpiece, makes a dazzling comeback in Paris at the Opéra Comique.
I've dedicated my professional life, since 1965, to the Baroque world via the music of Marin Marais.

Conductor
At the heart of this tragedy is the thwarted love story between Alcione, daughter of Aeolus, god of the winds, and Ceyx, king of Trachine.
The production is a career culmination for musical director Jordi Savall.
Jordi Savall, conductor
"I've dedicated my professional life, since 1965, to the Baroque world via the music of Marin Marais. My long-time dream was to transpose on stage the poetic and expressive world of his opera."
Alcione inaugurates the renovated Opéra Comique and returns Salle Favart to its splendor after 20 months of work.
A happy coincidence for stage director Louise Moaty.
Louise Moaty, stage director
"We're all quite excited about the official reopening. Given Alcione's scenery, the idea behind the project was to pay tribute to the machinery of the theatre, to show what's going on behind the scenes – one is really submerged in the subject.
"These theatre machines were invented by sailors who were the first theatre technicians. It's for this reason that, on stage today, there are similar superstitions to those on a boat. One cannot, for example, say the word 'rope'.
"With this piece, the link with the sailors' world is obvious for the sea is very present, particularly in the scene of the tempest. So it was a real opportunity to link these two worlds and to show it."
French-Italian mezzo-soprano Lea Desandre gives a delicate interpretation of Alcione.
Lea Desandre, mezzo-soprano:
"Jordi Savall had accurate expectations in terms of sound quality, particularly for non-vibrating sounds, which are specific to Baroque music. It meant a lot of work because the voice naturally vibrates. It requires permanent control."
Jordi Savall
"What is important is that there's always this mixture of declamation, narrative and singing. You need to strike the right balance because that is what allows the emotion of the song to touch us.
"And it has to sound authentic. With music, if you fake it, you don't convey emotions.
"When you do an opera by Mozart and it's unsuccessful, people say, 'Ah, what a bad interpretation', but nobody says, 'Oh, what a mediocre composer'! But if you produce an unknown piece and you interpret it badly, people often say, 'This composer is boring'. This rediscovery of Alcione is an opportunity to discover the genius of Marin Marais."
Jordi Savall fell in love with Marais' music when he discovered viola di gamba pieces at the National Library in Paris in the 1960s.
Alcione will also play in Versailles on June 8, 10 and 11 of this year and in Caen on the 10 and 12 of January 2018.