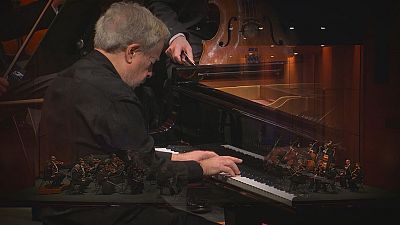 His recital of Beethoven's Piano Concerto No. 4 was sold out at this year's Easter Festival in Aix-en-Provence.
A child prodigy with perfect pitch, Nelson Freire gave his first concert at the age of four. Educated in Vienna, he has appeared with the world's leading orchestras and conductors, and recorded with the biggest labels.
Yet the Brazilian pianist remains one of the most humble and discreet musicians on the international scene, who shuns the spotlight and is happiest when playing the music he loves.
His love-story with the piano started as a young child with his first teacher in Rio, Nise Obino, a former student of a pupil of Liszt.
"I was lucky enough to meet someone. Like everything in life, music works through love – maybe it's something to do with my star sign, I'm Libra, they say it's the sign of love – so, I loved that teacher very much and I would have done anything she asked of me," he told our reporter, Lise Pedersen.
While classical piano is his chosen path, Freire says having an open mind is crucial to keeping intuition and inspiration alive. He is a man of more than one passion.
"I love film noir – Hitchcock, Fritz Lang, especially films from the 1940's and '50's. Cinema is my second passion," he said. "And music is very important in film, you know, music and the absence of music, too: with Hitchcock, for example, there are some scenes with a lot suspense where he completely removes the music. And sometimes, bad music can ruin a film, can't it?"
Freire is also a huge fan of jazz music. As a child, he says he used to enjoy improvising on the piano.
"I love jazz music – I am fascinated by Ella Fitzgerald," he told us.
It was his life-long friend and duet-partner Martha Argerich who brought jazz into his life. The two met as young piano students in Vienna in the 1950's.
"We met when I was 15 and we spent a summer together. It was a very special time, we listened to many different things. Until that time, I only knew classical piano. Thanks to her I got to know a lot of new things, especially jazz," he explained.
French violin virtuoso Renaud Capuçon is the artistic director of the Festival de Pâques of Aix-en-Provence, which he founded together with co-director Dominique Bluzet four years ago. The aim of the festival is to share the love of music with the broadest audience possible – tickets start at just 10 euros, and there is also a handful of free events in venues across town. Another objective is to offer a combination of concerts by both up-and-coming talent as well as established masters like Nelson Freire.
"What's touching about Nelson is that he is filled with doubt, he is always searching… he gets nervous before each concert. For me, that is the very sign of a great artist. A great artist is someone who is always questioning himself. Certainty is not something that is essential in music," Capuçon told us.
"He is also an exceptional human being, because there is that gentleness about him, which you also find in his piano playing, that intelligence, of course. You know, it's no secret: when artists remain at that level over the course of a career that spans more than fifty years, it's because they really have something to say, they are not like those artists who come and go, and that's why they are great masters and why we are so proud and happy to have them here at the festival."