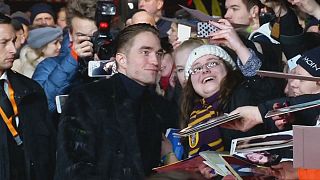 They came from 'The Lost City of Z' – the film that is to the fervour of the red carpet at the Berlinale.
The cast of the action movie includes British-American actress Sienna Miller. Joining her too signing autographs and meeting their fans was Robert Pattinson of Harry Potter fame.
' Lost City of Z' is a biographical film based on the life of the British explorer Percy Fawcett who made several expeditions in search of 'Z' – the name he gave to an ancient lost city believed to be somewhere in the Brazilian jungle.
Support 'The Lost City Of Z' US Trailer! 70,996 views #RobertPattinsonlostcityofz</a> <a href="https://twitter.com/AmazonStudios">amazonstudiosbleeckerstfilms</a> <a href="https://t.co/vSlGCOyqjk">https://t.co/vSlGCOyqjk</a></p>&mdash; Robert Pattinson (robpattinsonww) February 5, 2017
The movie was presented at Berlin's Film Festival out of competition in a special Special Gala screening. It is more than an adventure story.
''The movie unfortunately is I think is relevant as ever because we cannot close the book on what is clearly a white – let's be honest here a white, very racist colonialist view of the world, and unfortunately it still needs – exposure, so I wish I could say that we don't have this wave of nationalism that's gripping the world now.
'But we do and more than ever I think that we need to be reminded that we are all made of the same clay so the unfortunate truth is I think it is very relevant," James Gray the director told reporters.
The film is also a portrait of social conventions at a time of great scientific and social upheaval.
The movie will be starting its European cinema release in spring