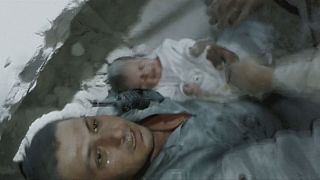 The White Helmets is a story of a volunteer group which operates in parts of rebel-controlled Syria. A documentary shot over five weeks captured their work.
It is also a story of denial. The Oscar-nominated short documentary has been affected by the executive order President Donald Trump signed.
It restricts immigration to the US. from seven majority-Muslim countries and indefinitely bars Syrian refugees from entering America.
'White Helmets' Director Says Film's Syrian Subjects Can't Attend Oscars Because of Trump's Ban https://t.co/MXsSOyekQk

— Charles Davis (@charliearchy) January 31, 2017
And so some of those who rescue lives from the carnage in Syria will be denied the chance to attend the Oscars.
"So our cinematographer, a young White Helmet volunteer called Khaled Khateeb had planned to be with us, and the head of the White Helmets, called Raed Saleh, was also supposed to join us.
'It's very unclear at this point whether they'll be able to, so we feel even more responsibility and pressure to make sure that the White Helmets message is shared with the world if they cannot be here to share it," explained Joanna Natasegara, Producer, The White Helmets.
The documentary sets out to provide an insight into the workings of the organisation that claims to have rescued more than 60,000 people of all ages.
"We feel it's also a lost opportunity for America. In this particular moment, the voices of Syrians and people from the Middle East are so important to be heard in order to break down misunderstandings and stereotypes, and lastly we feel that in a world which is so divided, the message of compassion that the White Helmets so embody is one that's just needed more than ever," opined the director Orlando Von Einsiedel.
Those involved with The White Helmets documentary are not the only onces to be hit by the executive order. Hala Kamil, the subject of Watani: My Homeland, also nominated in the short documentary category, will not be able to attend.
Iranian director Asghar Farhadi and actress Taraneh Alidoosti are set to boycott the ceremony in protest at the ban.