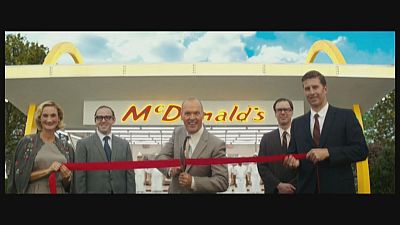 'The Founder' charts salesman Roy Croc's story as he helps turn two brother's fast food eatery into to what we know today – McDonald's one of the biggest restaurant businesses in the world.
You've had their food, but do you know their secrets? Uncover it all THIS Friday when #TheFounder opens nationwide! pic.twitter.com/g9EQbDVRsw

— The Founder Film (@thefounderfilm) January 16, 2017
Roy Kroc is the man to thank the next time you munch into your fries and burger and 'The Founder' tells his story and it is a tale of the classic American Dream.
"Ray Kroc was like a lot of Americans who came from immigrant families, that's who we are and that's a great thing, and built it himself, he was a boot straps kind of guy," explained Michael Keaton, the actor who plays Roy Croc.
The red carpet in Los Angeles for the American launch was a little bit more upmarket than you local burger joint and it has not been recorded if the cast tucked into burgers and fries.
One of Michael Keaton's co-stars, Nick Offerman outlined the appeal of the film.
"The cast is riddled with good-looking, brunette, white men that are very well spoken and from Ivy League colleges. It's the epitome of American capitalism, you know? For me it's the greatest representation of having as much flash and facade as possible backed up by as little integrity as possible," he concluded.